I woke up early, not because of jet lag (going without sleep Wednesday night helped me fall right asleep Thursday night) but because I wanted to get pictures of my first Hawaiian sunrise in 25 years. I was dismayed to find that it was raining when I stepped outside. But, if you know weather in Hawaii, you could probably guess that it didn't last long, and I was rewarded for my efforts with a beautiful sunrise–and a double rainbow!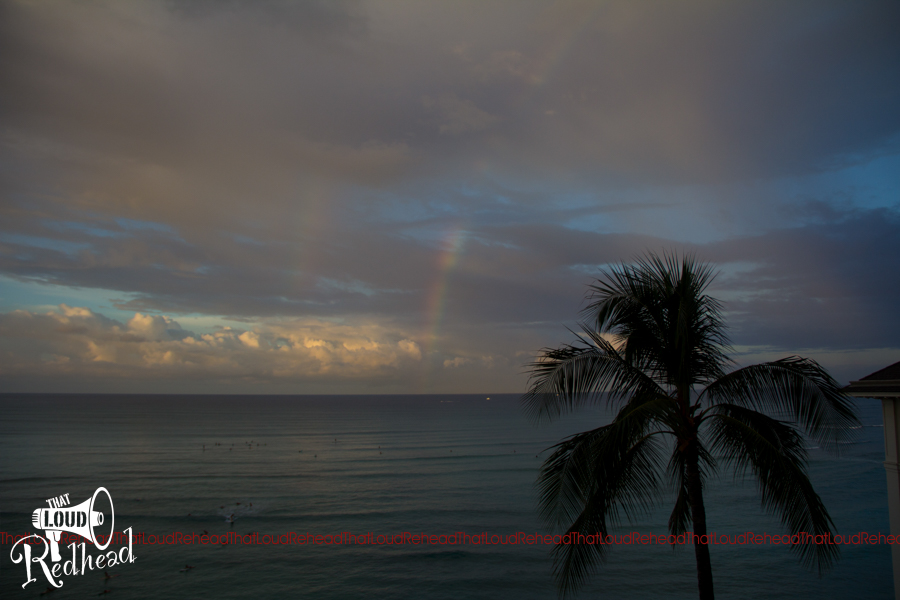 Sorry, I know it's faint, but they're both there!
We made the trip up to Kailua, where I had reserved two kayaks to rent. On the way up, we all just marveled at how lush and beautiful it was, even in the city.
We stopped at a local coffee place (I refused to succumb to Starbucks mediocrity while in paradise!) and I had a breakfast sandwich, along with the most amazing cappuccino.
Oops, I forgot to get a picture of the cappuccino! I raved about it for the rest of the day, but it wasn't until we were eating dinner that I suddenly realized why it had been so delicious: I forgot to ask for non-fat milk. Ha, Ha, Ha, I've been drinking it that way for so long, having it with whole milk was like dessert! Once I came to that realization, I decided to just get it that way for the rest of the trip. 😉
At the kayaking place, we purchased a waterproof sleeve for Jason's phone (I was too nervous to try it with my brand-new iPhone 7), and then we made a couple of other purchases, including a swimsuit for both Jason and myself. I had a bathing suit, the same black bikini that I wore last year, but Jason was insistent that I should buy a bathing suit in Hawaii. I was skeptical, because why spend the money when I already had a suit, but I found one that I absolutely fell in love with, and even though it was $80, I gave in and bought it. I'm glad he convinced me to do it, because, as he pointed out, now I will always have a bathing suit that I can say I bought in Hawaii. (We also have five beachtowels about which we can say the same thing.) I was a little nervous about wearing the bikini, because it was smaller than even my black one, but I figured nobody who knew me would see me, and I didn't have to share the pictures with anyone if I didn't want to. 😛
We set out around 10am, and I learned something…kayaking is not easy! Or maybe I'm just a wimp. 😛 But although it definitely took a lot of arm strength, it was also fun. I went with Jamie in a double kayak, while Jason went with JJ. We kayaked to a small, flat Island first, which was mostly a bird sanctuary. We walked around the edge of the sanctuary and took a few pictures.
Then we got back in the kayaks and made the longer trek to a larger island. It took us a while; I think it was almost 2 miles total from our starting point to that second island. It was absolutely beautiful, though, and we enjoyed hanging out and eating the picnic lunch we had paid way too much money for bought before we left town.
There I am in my brand-new Hawaiian bikini. 😉 I was a bit self-conscious that first day, but the reality is, women of all shapes and sizes wear bikinis in Hawaii. And why not? Who honestly cares? No one! I'll admit that once I saw how many women were wearing bikinis, regardless of their body size or type, I felt much more comfortable, and I didn't give it a thought after that.
I thought kayaking might be easier on the way back, foolishly thinking the waves would be in our favor, but somehow, that just didn't work out. Jamie was a little crankier on the way back, but then again, so was I. Kayaking is very tiring!
After we'd gone back to the rental place and turned in our kayaks, we took the long way back to town, stopping at a lookout point along the way. I just could not get over how amazingly blue the water was:
We don't have water like that in Michigan, at least not where I live! Back at the hotel, I finished off our bottle of champagne, which I felt I'd earned after all the kayaking. 😉
Meanwhile, the boys just had to go back in the water, even though they spent all day there!
Another beautiful sunset on Waikiki. The boys are the two dark blobs in the blue floats; we'd gotten them rafts at the ABC store (a Hawaiian tourist shop that you can find on every corner, and actually even more than that!). They had a blast in the waves!
On our second night, we gave in to Jamie's request for Japanese food. (He'd had it when we were in Disney World all those years ago, and he remembered it fondly.) Unfortunately, the only Japanese restaurant we could find easily was a high-end steakhouse, but even though it was pretty expensive, the food was great and we had a blast.
Our chef was very funny, and enjoyed talking to us about Detroit. He was proud to tell us he had served Eminem at one point in his life!
And that ended day two!