On day eight, we got up earlier than I expected, because my husband insisted that we had to be at the town of Paia (about an hour from our hotel) by 7 AM if we were going to make it on the road to Hana before the crowds came. We didn't quite make it, but we were there about 7:30am. As we were driving down the road, I was reading through the trip magazine that we got from the rental car company. An ad for an app caught my eye, touting that it was a "GPS-enabled guided tour of the road to Hana." If you know me, you know I love information, and I am a sucker for audio tours.
I immediately purchased the app (it was only five bucks), but then the challenge became downloading it to my phone. It was so big, it needed to be done on Wi-Fi. So we hunted around Paia till I found a coffee house that had free Wi-Fi, where I bought Jason some more banana bread and then waited while it downloaded.
Let me tell you, it was worth the trouble and the five bucks! It literally was like having someone in the car with you, because it uses GPS to trigger the audio commentary, so you always knew you were right where you were supposed to be as it was giving you facts. Our "tour guide" never actually gave his name, but he touted himself as a local who travels the road all the time. (Considering he had a Canadian accent, I kind of doubt that, but maybe he's a transplant. 😉 ) He would give us warning of an upcoming possible stop, and then would even go so far as to tell us whether it was just an option, or a "must-see" location. He had five of those must-see stops on the trip, and they were definitely worthwhile. He had several other suggested stops, including one that I honestly wish we hadn't done, because I felt it was a waste of time.
A path…seems easy enough.
Steps built into the hill…that works.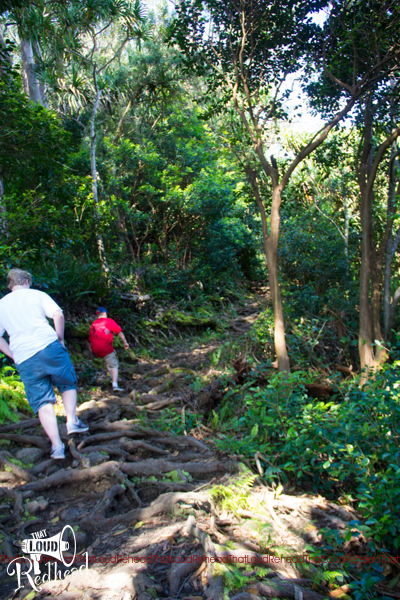 Um, this is a path?!
You can't tell from the picture, but there is mud, too. JJ fell once and landed in the mud…imagine trying to keep THAT mess out of a rental car.
And here we are at the top for a view of…nothing. No waterfall. No ocean view. Just a bunch of trees and shrubs that blocked out any kind of long-range view. Hmph. This is my "I cannot believe that I worked so hard for this non-view" face, combined with my "and I still have to get back DOWN the damn hill" face.  Not sure what the real attraction was at this spot. The challenging terrain??
At any rate, we saw some amazing and beautiful sights on our day-long trip. Lots of winding and curving roads over the sides of cliffs, a church made out of lava stone that was built in the 1860s, and plenty of beautiful waterfalls.
Tight corners in traffic! 😮  There was a delivery truck trying to come around the corner from the other direction–yikes!
Lots of signs like this…they were fun to read, but impossible to pronounce. 😉 
The bridges had dates on them–they were over 100 years old! And most of them were one lane. In some spots, signs told you to honk your horn around corners because of the tight spots.
This is one of the must-see stops, Keanae Penninsula, known for beautiful views, taro farming and also a century-old church.
The water was gorgeous and SO blue! That black rock is all lava rock.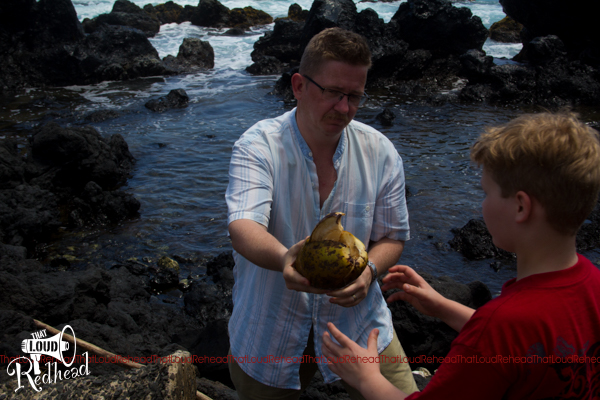 Our guide told us that we'd be likely to find coconuts at this spot, and we sure did. Jason found one and cracked it open on the lava rocks.
The inside of a fresh-off-the-tree coconut. We all took sip of the milk…which didn't look like milk at all and didn't really taste like anything, ha ha! I was the only one who was brave enough to take a bite…it wasn't that exciting.
Family photo at the Keanae Penninsula.
This is the Keanae Church, built in 1860 out of lava rock and coral. It is a Christian church and was built when the missionaries came to Hawaiian at that time.
The inside of the church. I can only imagine that it gets hot in here during service, but they have high ceilings and plenty of doors for cross-breezes. A tsnami hit the penninsula in 1946 and washed away the entire town except for this church. 🙁
The Upper Waikani Falls, also known at the Three Bears Falls, so named because, as you can see, there are three of them in descending sizes. Some people were brave enough to go down there and swim in the pool–not me!
Here is the "food stop" on the way to Hana.  The one and only food stop! 😛 It was just some make-shift stalls serving a variety of hand-made food. With patio furniture, though!
Here is another "must-see" stop, definitely worthwhile, even though it was a pretty long trek down a winding residential road to get to it. This is Waianapanapa Point, home to lava rock formations, a natural sea arch, caves, a blow hole, and a "black sand" beach. You can see the black sand beach here, but in reality, when you got close up, it was just tiny little gray pebbles that turned black when the water made them wet.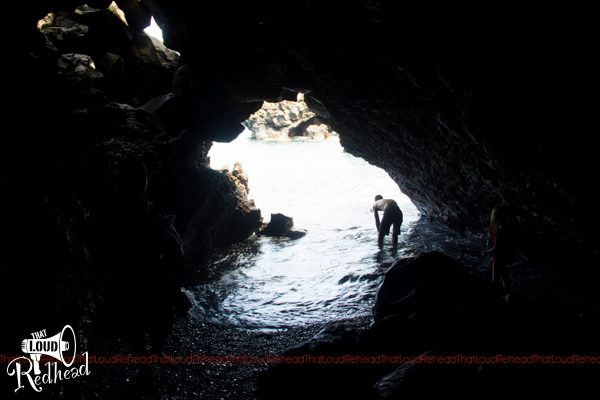 Our guide told us the legend of a Hawaiian king who brutally murdered his wife, who was hiding from him in these caves. I decided not to venture inside, since wives don't seem to fare well here. 😛 Jason and the boys went in and took some pictures.
Yes, boys, I'm making you pose again, this time in front of lava rock.
This was taken after treking all the way around the cove and up a little hill. I cannot get over how blue the water is!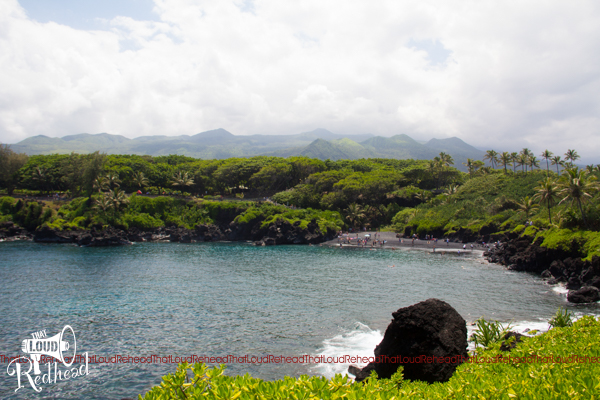 The black sand beach (middle right) from the other side.
Anddddd…welcome to Hana…! Our guide kept telling us that the thrill was in the journey, not the destination, and he was right! There was almost nothing in Hana. To the point where we were concerned about being able to find a place to eat! (Thank goodness we'd taken the advice of my sister-in-law and packed plenty of snacks!)
We did find a general store where we bought the boys "I survived the Road to Hana" shirts.  We also found an ATM, which was a blessing because we just assumed Hana was a thriving metropolis…or at least, would have a bank!  Finding lunch was a bit challenging, but we ended up going to, of all things, a food truck that's served Thai food!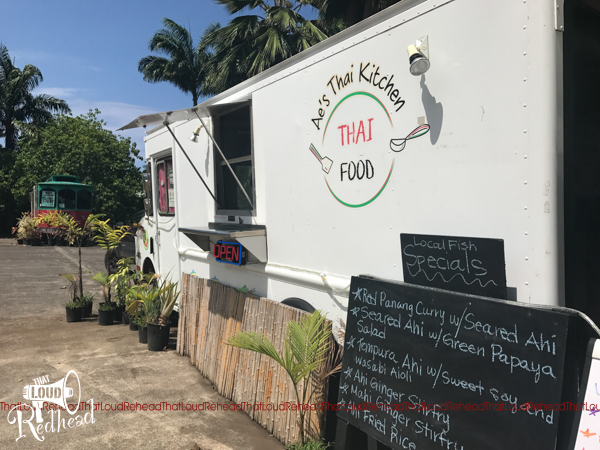 Let me tell you, I had my doubts, because I'm not 100% sold on Thai food anyway, but it was awesome!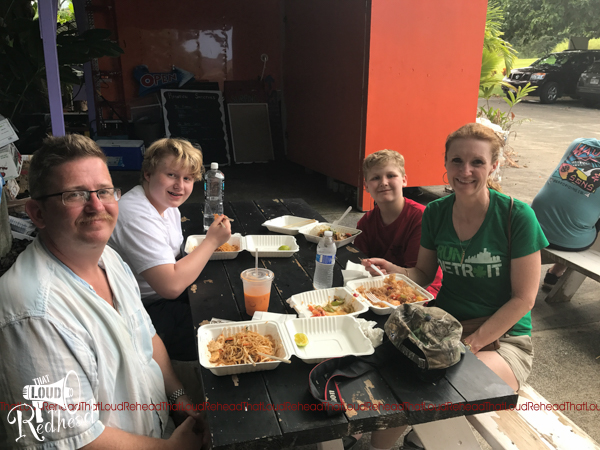 What I found most amusing was the fact that we were actually short on cash due to some unforeseen circumstances (we assumed Hana would be a town big enough that we could find plenty of spots to stop for lunch that took credit cards). Once we arrived and saw how small the place was, we were concerned that we wouldn't have enough cash for lunch (we had had some challenges the night before with a vendor's credit card option not working and had to pay a large sum in cash, and we hadn't remembered to go to the bank before leaving "civilization"), but the Thai food truck took credit cards using the little square attachment to the owner's iPhone. Modern technology to the rescue, ha ha!
We decided to keep going after Hana to see the sights recommended by the tour guide. It was a lovely drive–of course it was, it's Hawaii! 😀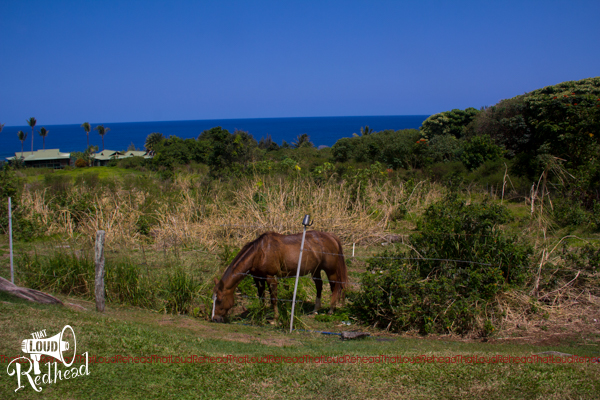 Welcome to Koki Beach. Don't swim here. 😉 I do wonder if the beach is really this dangerous, or if the locals just want you to stay off their beach. 😛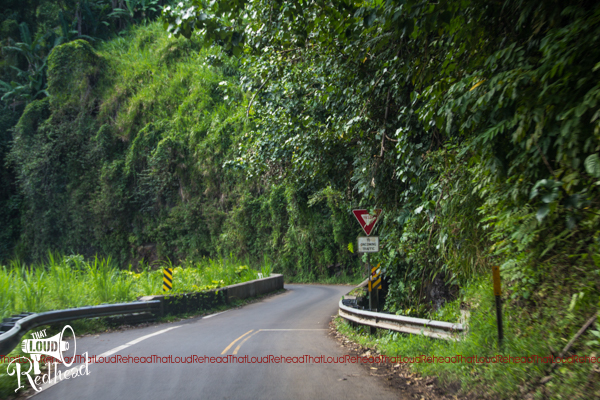 We made it all the way to the "seven sacred pools" (which our guide told us is a complete misnomer, as there are many more than seven pools, and there is nothing sacred about them; that was actually a marketing ploy by some enterprising 19th century businessman to get more people to come see them–clearly it worked!). Unfortunately, the pools were closed to swimming the day we went, but they were still beautiful.
That last picture is of my boys on what was probably the only moment of the entire day were they weren't arguing with each other. They were making a game out of throwing stones into some of the pools. It was a frustrating day at times, but to be fair, it was a long day for them in the backseat together.
On the way back, it was cloudy for about the first 10 minutes, and then all of a sudden the skies opened up and it was pouring rain for over an hour!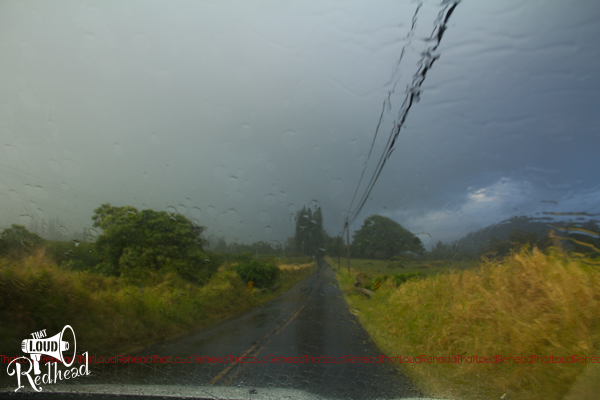 My poor husband had to navigate those narrow, curvy, steep roads in the driving rain for more than half the trip back. Thank God he drives an ambulance for a living and is very experienced with challenging driving! On the other hand, our friendly toward guide used our return trip to give us a pretty thorough history of the Hawaiian people and culture. I'm sure you can imagine that I was absolutely eating it up. Truly, Hawaiian history is fascinating. Did you know that in 1993, United States government actually issued a formal apology to the people of Hawaii for what had been done to them in the 1893 overthrow of the monarchy? From what I heard, it was long overdue.
By the time we got back to civilization, we were all starving, so we stopped at a local bar and enjoyed hamburgers while we watched the Merrie Monarch Hula festival on TV. That's what they do at sports bars in Hawaii, obviously! 😉 (To be fair, they did have playoff hockey on before it ended.) I actually really enjoyed watching the hula dancers, and I was excited to see one of my favorites actually won when I read the results in the paper the next morning.
Overall, I really enjoyed the trip to Hana, probably mostly because I didn't have to drive it. On the other hand, when I asked my husband after the treacherous rain-filled drive back what he thought of it, he just smiled and said, "Are you're kidding? That was fun!" 😛
I would highly recommend that app, which actually seems to be something you can download for many locations around the world. It's called GyPSy (note the strategic capitalization). It worked out really well for us, because once it's downloaded, it uses GPS strictly, not any cellular or Wi-Fi signal, and in those mountains, there was sometimes no service at all!
And that's the end of our road to Hana!