Our sixth day in paradise was all about snorkeling. I'll be honest, snorkeling was probably my least favorite activity of the trip; not to say that it was bad, it just wasn't something I was overly enthusiastic about. I don't like being underwater a long time. My husband was really interested in it, though, so I put down a ridiculous amount of money to go on a pretty high-end snorkeling adventure. (Let's be realistic, there was very little "low-end" about this vacation. 😉 )  I will say that we got our money's worth. The captain and his crew didn't just take us snorkeling…they served us delicious food and pretty much made sure we never wanted for anything during the trip.
The weather was perfect, and thankfully, after our day kayaking, I wised up and got myself a hat to cover my head. (Sadly, my hair is thinning as I get older, and my scalp gets sunburned easily.)  We brought along underwater cameras, but I also bought a waterproof sleeve for my iPhone 7, since the one we bought for Jason's phone had worked so well.
We were on a beautiful catamaran, and after we set off, the crew manned the galley to get our breakfast ready. They served us coffee, fruit and cinnamon rolls.
They referred to the cinnamon rolls as "Mom's secret recipe cinnamon rolls," and I could tell they had a hint of lemon in them. I want to say they were excellent, but, well… I'll get to that in a minute.
It was just a fabulous day for a boat ride, and after we been out on the water a bit, the captain directed us all to the front of the boat and gave us our safety instructions.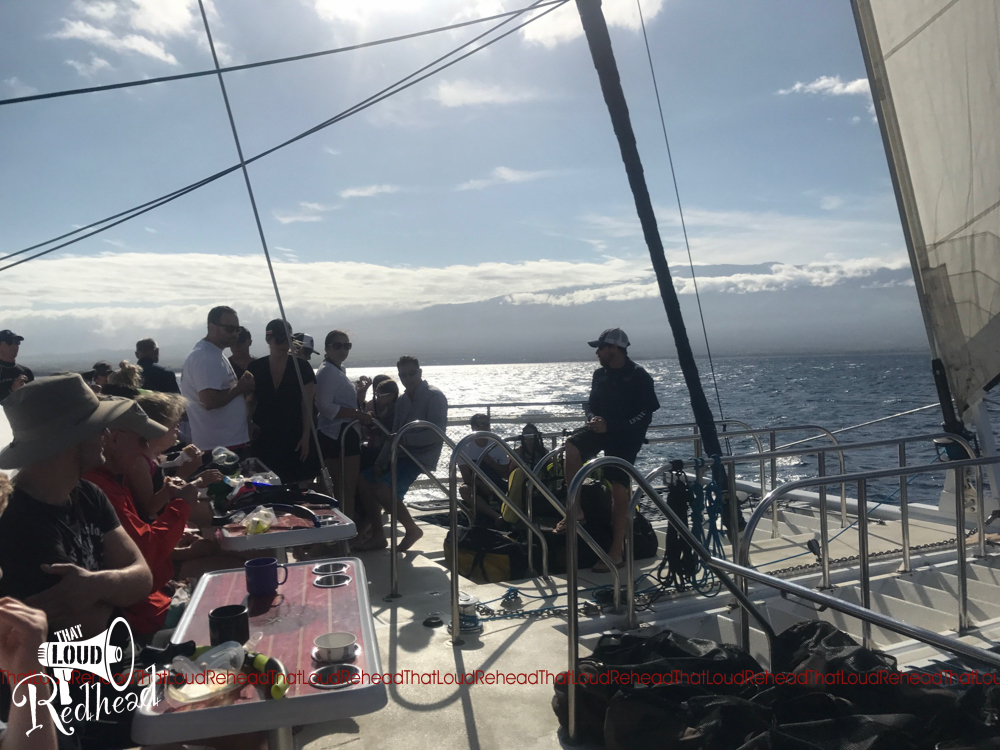 Not long after that, I went down into the galley to get that picture above of the fruit and cinnamon rolls. That was a mistake. I wouldn't call it severe by any stretch, but I do occasionally suffer from motion sickness. Going down into the bottom of the boat, which was very unstable, especially as the water got choppier, suddenly caused me to become nauseated. I went back up top side, but it was too late. I was positively woozy, and I could barely stand up. I sat back on the bench I had been using, putting my head in my hands and just being quiet for a while, trying not to be obvious about my distress. But just to show just how attentive the crew was, the captain actually noticed me right away (I was sitting pretty close to where he was manning the steering wheel), and he immediately called out to me…by name! I was shocked that he remembered my name on a boat of probably close to four dozen passengers! He inquired after me, and began to give me suggestions on how to make the feeling pass. He even offered to let me come up and steer the ship, which he said would help take my mind off my troubles. I declined, but it was nice of him to offer.
Eventually, when we stopped at the first snorkeling spot, my sickness subsided, but it had one unfortunate, long-lasting effect: you know how the last thing you eat before you get sick suddenly becomes the most disgusting thing in the world to you? Well, the last thing I ate before I got motion sick was one of those cinnamon rolls. Which totally sucks, because now I can't think about the cinnamon rolls without feeling ill. 🙁  Even now, a few weeks later!  And that is truly a sacrilege, because they were very good.  So although I myself would never eat another one of their lemon-infused cinnamon rolls, I strongly urge anyone who has the opportunity to try them.
OK, enough about me and my unfortunate malady. I did eventually go in the water for a few minutes at each of our drop spots, but again, snorkeling wasn't my thing, so I preferred to hang out on the boat and just relax in the sun. The boys, on the other hand, had a great time!  There was a professional photographer on board who took our pictures, but he unfortunately did not get any of the boys underwater. I still bought his pictures anyway (did you have a doubt?), including just some general pictures that he had of our trip, as well as some from a trip he'd taken earlier of some beautiful fish. So although I can't take credit for these, I am happy to share them with you, because you know I am all about beautiful pictures!
I was not very happy with the pictures he took of our family on the boat. He used what's known as a "fisheye" lens, and I have to be honest; nobody looks good in fisheye!! Here's an example:
Yes, all my boys have a round face, but not that round! Oh well, live and learn. I did get a good chuckle out of the fact that, after the photographer took our pictures, he then took a picture of one of the passengers taking our picture with my cell phone.
Once all the snorkeling was done, they served us a delicious lunch of teriyaki chicken, Hawaiian rice, salad, and of course a Hawaiian roll.  I had no issues eating lunch, thank goodness, but although I did take a glass of wine (two beverages were included with the cost of the trip, but I honestly saw them offering everyone more than the two that they were allotted), it didn't taste all that good to me, so I just kind of held onto it and nursed it for the trip back.
After the snorkel trip was over, we went back to the hotel to rest up a little before heading to our next adventure. Of course, when you're in Hawaii, you have to do a luau! And we definitely did!  When we arrived, the greeter who checked us in had told us that he gave us the best seat in the house. I joked with him that he probably told that all the guests, but when we were seated, I realized that he wasn't kidding!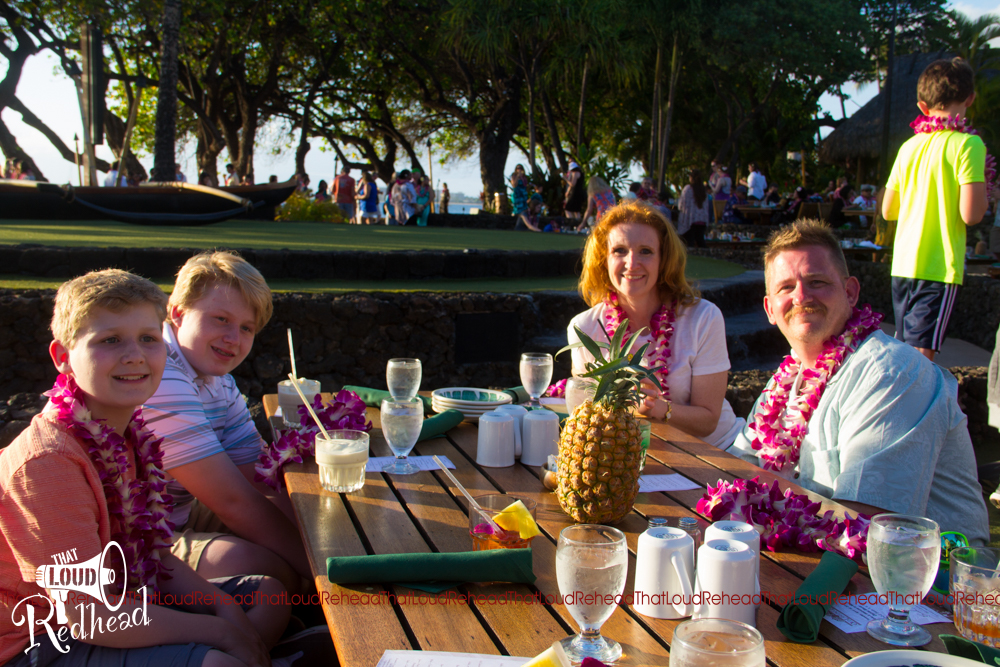 Front row, almost dead center. Now, if you know anything about luaus, you know that traditional Hawaiian seating for such an event means you sit cross legged on the floor. When my sister-in-law booked the event for me, she asked me if I wanted that, or if I wanted to sit at tables. I didn't really think much about it, but I said that if we were going to do it, we might as well do it the right way. Booking the trip nine months in advance must've helped, because clearly we got great seats. However, the two boys were a little less than enthused about spending three hours sitting on the floor. Wimps!
The luau was incredible! (I keep saying that, don't I? ) I had learned some history of the hula while I was at the palace, and I also read some of it in the luau brochure, so to watch them tell the story of hula through the dance itself was really beautiful.  Such amazing talent among those dancers!  I tried to take pictures, but obviously I didn't want to use the flash to distract the dancers. I did the best I could.
As far as the food goes, it was an all you can eat smorgasbord of lots of different, mostly Hawaiian, foods, which included a pig that was cooked in the ground.
JJ and I went up to watch the ceremony as they uncovered the pig, and the guy who was narrating was really funny.
It was enjoyable to watch, although seeing the dead cooked pig was less than exciting. :-P.
I was really intent upon trying new and different things on our trip, so I literally took a little bit of everything except for one fishy looking thing that I just knew I wasn't going to like. Some of it was just OK, some of it was delicious, but I was proud of myself for giving it all a try. Including poi, which is definitely an acquired taste, one which I'm not sure that I will ever actually acquire. 😉 I enjoyed dessert (of course), which included some lavender cookies that I just adored!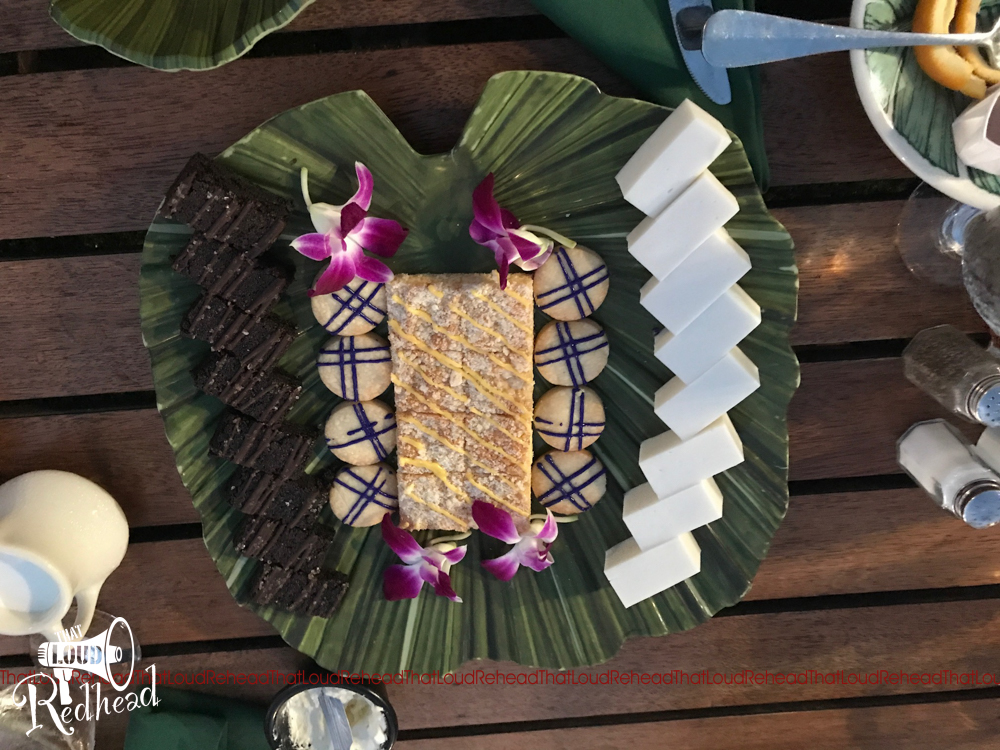 If you're interested, you can find the menu here:
https://www.oldlahainaluau.com/menu/
Something else that I forgot to get a picture of was the banana bread…it was amazing! They really know how to do banana dishes in Hawaii, let me tell you. We all exclaimed over the banana bread, and then, to our delight, our server came to the table and brought us the check, along with a little "treat" to take home. I thought it would be some inconsequential thing, but no: it was mini loaves of banana bread, one for each of us! Oh so good!
On our way out the door, many of the dancers were there to wish us well and thank us for coming. There was one in particular that I passed by that I had noticed during the dance; he was very strong and his movements were very fluid, and my eyes just kept gravitating toward him whenever the men were out dancing. OK, yes, he was also a REALLY good looking. 😉 But beyond his looks, he truly was a very skilled dancer. As I walked by him, I stopped and said, "Oh, hey, I remember you! I noticed you when you guys were out dancing. You did a really good job up there." He smiled big and said thank you, and then as I walked away, I heard him say to his fellow dancers, "That just made my day. Dude, I am STOKED!" Which of course made my day. 😉
The luau was truly enjoyable, from the food, to the beverages, to the entertainment. There are many, many options for a luau in both Oahu and Maui, but I can tell you that if you do go to Maui, I would highly recommend the Old Lahaina Luau.
OK, on to day 7…a very big day!