On the seventh day, we rested. Well, sort of. I actually got up and ran 5 miles first thing in the morning. But then after that I rested!
One thing I like about the Westin hotels is that they have running route maps for their area. You can choose a 3-mile or 5-mile route, which are mapped out on a little card that they give you. The one in Honolulu was great; the 3-mile route was a short trip that didn't take you on any major hills, while the 5-mile route was basically just a run around Diamondhead. They had a similar card for the Westin Maui, but I was a bit disappointed to see that the 5-mile route was basically just the doing the 3-mile route twice. And yes, I did point out to the lady that 3 x 2 = 6, not 5. 😛
I didn't feel like doing the same route twice, so I basically went off the path and ran on the road for a while. However, that allowed me to get to a boardwalk that offered some beautiful views of the ocean.

This route was even more populated than the one in Honolulu. Even at 5:45AM, I ran past a lot of elderly walking groups, and a few runners as well. It was a little after 6:30 by the time I got back close to the hotel, and the walkway along the beach was packed! Walkers and runners were out in force. People like to have their early-morning beach time in Maui!
After that, I went back in and took a shower, then the boys and I went out to find a place for breakfast. It can be challenging to find a spot to eat when you're traveling, especially when you have four different people to please, but we ended up with a real winner that day. It was called 808 Grindz, and it was very busy–we waited an hour to get in!  You know when a place has that kind of wait, it's got to be good, and it was.  I had an omelette that was delicious, while everyone else got some form of eggs, and then we split a stack of pancakes, because the place is known for them.
That's a macadamia-nut syrup in that little cup, and it was so good.
After breakfast, we walked around Lahaina for a little bit, and after some debating, and actually leaving the store and then going back, (I bought myself) my husband bought me a 20th anniversary gift: a Hawaiian plumeria and maille leaf bracelet, which goes well with the Hawaiian heirloom pendant my dad bought me in 1991.  I have been wanting a gold bracelet for a long time, and that one turned out to be the perfect piece of jewelry to complete my ensemble for our vow renewal later that evening.
Back at the hotel, while the boys went out exploring, I hung out in the room and ironed all their clothes while I waited for my hair and make-up artist to arrive. Yes, I got a hair and make-up artist, just like a real bride. 😉
It was an interesting experience. I've never had my make-up done before, and I even got fake eyelashes, ha ha! I figured what the hell, since my first wedding had been planned in four and a half months, and my husband broke his leg six days before the ceremony, I figured this time I was going to do it up right. There are a few things that I didn't care for about my hair/makeup stylist, but overall, she did a better job than I could've done myself!
It was an hour's drive to the beach where we renewed our vows, and we were a little late thanks to traffic. (There is a surprising amount of traffic on Maui!) And then it was time for us to renew our vows!
(get ready for an onslaught of pictures… yes, I bought them all)
Walking into the beach for the first time. (Can you see why I was unhappy about my hair? Or am I just hyper-sensitive?)
Jamie is carrying the leis in a palm leaf.
Yes, I splurged for a harpist! 😉 It was so beautiful!!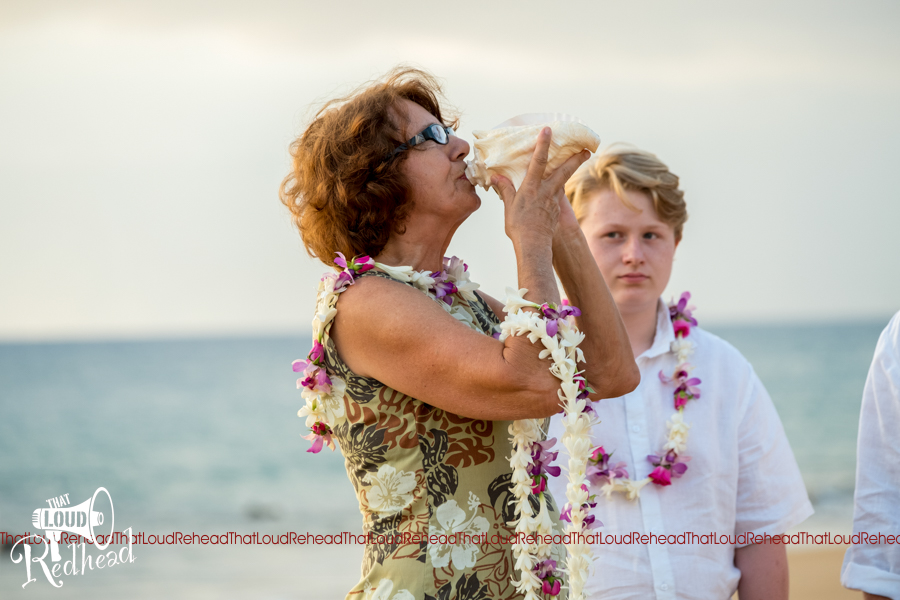 I love that the ceremony started with the blowing of a conch shell!
My best friend Tonia found both my dress and my bouquet. The dress is from Macy's (Adrianna Papel), which she found after I gave her some general ideas is what I was looking for. It was perfect! She then asked me what colors I preferred for the bouquet, and I said pinks and purples. She sent examples she found online, and I chose my favorite, which I then sent on to the planner to have the florist recreate. She did an amazing job recreating it–it was exactly what I wanted!
Always picking at his little brother. As you can see from all the photos, Jamie barely tolerated this ceremony. 😛
There it is! Jamie's one and only smile! 😉
I LOVE this shot!
That picture cracks me up!
Sadly, I had to leave the bouquet behind (there are restrictions in taking plants in or out of Hawaii), but at least I have pictures!
Right before this picture was taken, we were posing for a shot and got hit by a fairly big wave…this was us laughing at how wet we got (the bottom of my dress was pretty soaked!).
You can see that Jason's pants are good and soaked, ha ha!
I love both of those shots…our photographer was amazing!
I don't know why I'm smiling here.  Standing on those lava rocks HURT! 😛
I just love them all, but the last one is definitely my favorite.  (In case you're wondering about the backlight in the above photos, it was a battery-operated flash that Jason had to hold to his side the whole time, ha ha!)
Our ceremony was planned by Fay at Aloha Maui weddings. I would very highly recommend! She kept in touch with me throughout the process, made everything very easy, gave me lots of options, and, considering what things cost in Maui anyway, was very reasonably priced. I wanted some specific things when it came to the bouquet, the boys' leis, and the ceremony wording, and she accommodated everything. The only thing she didn't do was convince Jamie to smile. 😛 Ah, well, I love him anyway.
The photographer she arranged for our ceremony was Ceasar Lizada, and he was exceptional. He came as part of the package, and I really didn't expect him to take very many pictures, but he spent over an hour with us after the ceremony. He was very enthusiastic and seemed to enjoy the photo shoot as much as we did.  If you'll notice, in some of the pictures, Jason's pants are soaked from the knee down. He had us standing in a particular spot when I wave suddenly came crashing in on us, getting us both pretty soaked. It was pretty funny, and he had a good time with it.
After the ceremony, we did one last "big" (read: expensive) meal at Duo, a restaurant in the Four Seasons hotel nearby. More champagne, Chateaubriand, and a chocolate soufflé for dessert!
The vow renewal was exactly as I had hoped it would be: the sound of the waves crashing in the background with the beautiful harpist playing, hearing the ceremony wording I'd help write being read, Jason and I saying our vows to each other, the boys holding our rings, our toes in the sand and water…it was perfect. For all the effort and expense it took to get us there, I will cherish it forever!
Thank you for letting me share this special event. 🙂