I hope all the Americans and Canadians had a nice holiday. Happy 150th Canada day, a little late, to my Canadian friends!
I have to say, for it being a day off, I actually had a pretty productive Independence Day. Even though I didn't have to go to work, I still wanted to get up early and get my run out of the way. Tuesdays are typically the day that I try to do some sort of speed work, either actual intervals, or just running faster than my normal training run pace. I decided I didn't need to get up at 5 AM, but I did set my alarm for 6 AM. That turned out to be more like 6:20, ha ha, but I was on the road by 6:40.
My goal for my last several Tuesday morning runs has been to simply do a three-miler under a 10-minute per mile pace. That's certainly a pretty general target, meaning I could be anywhere from 9 to 9:59. (OK, 9:00 is probably not likely. 😉 ) In my head, I was thinking it would be nice to do a sub-9:30, so I kind of had that as a general goal. I was a bit sluggish at first, but I was able to pull out a 9:22 for that 1st mile. Not bad! I continued running at that pace for the next half a mile, but then I had to turn around, and I got hit with winds in the 6-10 mph range. Man I hate that! Headwinds in the last half of my run always make me cranky. 😛
As I continued along, and saw that I was still maintaining a 9:20-something for the 2nd mile, I started to think about my best 5K time. I remember it very well, because it was only a few weeks after my first marathon, and I remember being excited to make a sub-30. I also remember getting close to breaking the 29 minute mark, but with the traffic, I just couldn't do it. Although I couldn't remember what my exact 5k PR was, I knew that if I came in below 29, that would be faster.
So, even though I didn't start out that way, I decided by the end of the 2nd mile that I was going to try for a new personal best 5K time. Based on the pace I was currently going, I felt like I could get pretty close. And if I could just put forth a little extra effort in that last mile, I might actually be able to do it!
Having that wind in my face totally sucked, but I just kept pushing myself. What also sucked was when I got back to my house–and then still had to go another 10th of a mile past it! Kind of like when you're running a half marathon and you get to that 13 mile mark and that last 10th of a mile seems like an eternity. 😛 I had to round the corner and go down a ways, and of course I had to keep looking at my watch, since it wasn't going to give me any notification when I hit 3.1 miles.
As I got close, I toyed with the idea of going a little past 3.1, to try and stimulate an actual 5K, which always seems to measure long.  (Am I right? 😛 ) But honest to goodness, when I saw 3.1 on my watch, I was totally done. I hit the stop button, stopped in the middle of the road, and just bent over, breathing so hard I thought for a minute I was going to fall over! I stood there for at least a couple of minutes, just trying to catch my breath. Eventually, I saved the run on my watch, and I saw this when I was done:
Yay! Of course, it doesn't really count as a PR, since it isn't a race, but just knowing that I was able to run that fast, which is actually the fastest I've ever run for a 5K, really made me happy. After a short rest break, I decided that since I had extra time, and since it was a holiday and I will probably be eating plenty of bad food, I would go ahead and do a cool down mile. It was a nice, relaxing jog, for sure!
After that, I poked around for a while and then had to rush to get ready for our annual family fourth of July tradition:
Surly teenager at the parade.  Which contrasts with this kid, attending his first Wyandotte parade 15 years ago.
(Yes, it is the same kid. 😉  )
My sister and I do the Wyandotte parade every year, a tradition carried on from her husband's family, who are Wyandotte natives and have been attending the parade more years  than I could possibly count. We had the added benefit of escorting my niece to the parade, and there is just nothing like attending a parade with a six-year-old.  Everything was exciting and interesting to her, and her enthusiasm was infectious.
Once the parade ended, we headed to my friend Toddra's house for a barbecue, where my kids got to swim and enjoy some snacks and play basketball (honestly, we do not have a hoop, so I didn't even know my kids enjoyed playing basketball!).
Our contribution to the party was a dessert that JJ and I, with a little help from Jamie, made the night before.  And, oh, let me tell you about this dessert!  I saw it on the Pinch of Yum blog week and thought, "That looks ridiculously good." I was originally going to have jj make his "famous" triple decker brownies, but then I asked if he wanted to try making these, and he thought it was a great idea. By the time we were done, even Jamie was helping make them (I think he just wanted to eat some).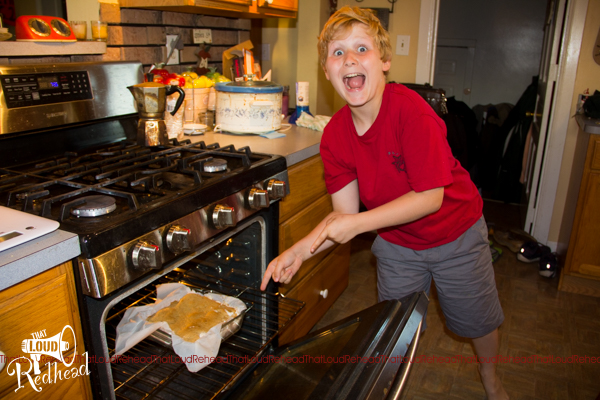 It was actually pretty fun to do the family "group cooking" project, and they turned out AMAZING.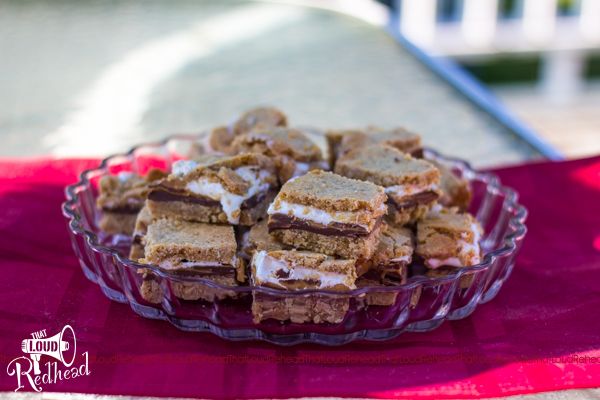 I just can't even describe how good they are. You should just make them yourself if you're curious. They're not light, ha ha, but they are definitely de-light-ful. (Wah wah wah…)
Back to July 4th. We ended up having to leave Toddra's party before the main meal was served, which meant we had to leave the S'mores. :'( I did grab one for each of us, but I wouldn't let the kids eat them until I took them home and got a nice picture, ha ha. And since they spent the night at my sisters, that meant they had to wait a whole day. 😮
Meanwhile, after dropping the kids off and then making a stop to see my mom (recovering from rotator cuff surgery…ouch!), I went home and enjoyed my kid-free evening.
My idea of a perfect summer night. (You're missing out on the ambiance of the classical music playing in the background. 😉 ) After a few chapters of my book, along with too much some wine and pool time, I then made my favorite "No one is here to complain" meal…a big old chicken salad.
Only, it turned out to be so big that once it was all in the bowl, I couldn't cut it. 😮 I'm really weird (picky) about my salad being super-chopped before I eat it, so to remedy the situation, I found another bowl.
It's hard to tell in the picture, but that bowl is almost 11″ in diameter and holds about 3 quarts, lol! (Thankfully, it wasn't filled to the brim.) After I chopped it all up and put it on my tray table to eat while watching a movie, I realized it was probably too big for one person…and yet, I ate every last bit of it. 😛 I was actually stuffed when I finished it…like, Thanksgiving stuffed. 😮 I was so full that I didn't even WANT my little piece of s'mores bar. And that is just not right!!
I felt uncomfortably full for the rest of the night, which is terrible, I know, but on the other hand…it was salad, so at least I didn't have to feel the guilt of overeating bad food. But I do think there IS a thing as too much salad, ha ha!
So that was my holiday. Also, here is this week's weigh-in:

Down .6, which isn't great, but certainly better than gaining. I do wish I could get motivated to really focus on my eating and stop gaining/losing the same couple of pounds. But I have no one to blame but myself for that one. :/
Thanks for reading!