Did you miss me last week? If so, bless you, because that means you're one of about 25 people that read my blog. 😉 And for that, I thank you profusely!
I got really busy last week, and it got to a point where I finally just decided that it wasn't worth trying to slap together a post, so I delayed it until after the holiday.  Man, our lives have been crazy busy! The last time I posted, we had just had an eclipse and another school year had started, this one for JJ. Football had also started for Jamie, and JJ's football season was not far behind.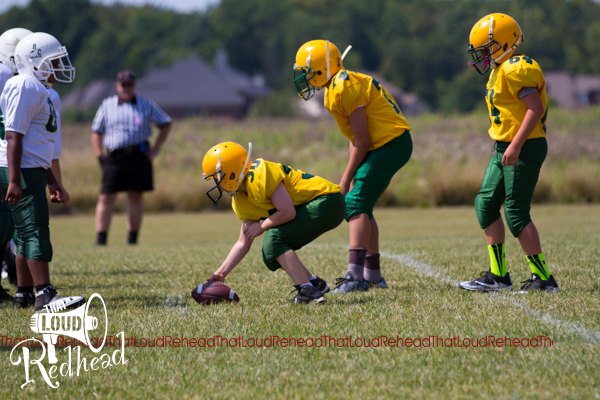 That's my son, the starting center for the middle school B team.  (Some schools refer to that as "junior varsity" for middle school, but we do not.) They had their first game a week ago Sunday, and I'm happy to say that they won. I'm also happy to say that, thanks to a defensive pick six, JJ's first snap at center resulted in a two-point conversion. It was a pretty fun day.
I didn't mention it at the time, but on August 11, Jason and I celebrated the 25th anniversary of our first date. There were no cell phones or selfies back then, so the earliest picture I have of the two of us together was from a Halloween party we attended a couple of months later: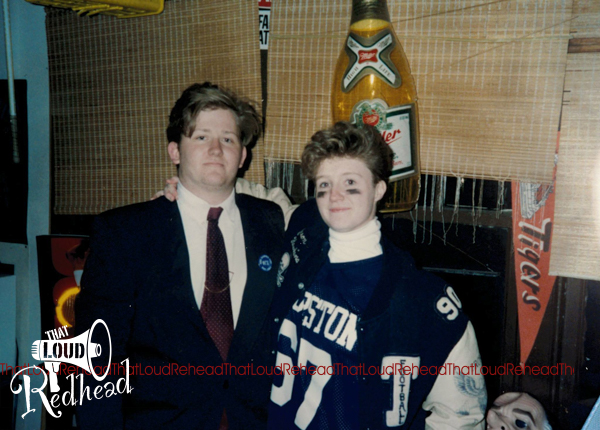 I think Jason was going as one of the dead presidents, ala Point Break, whereas I was clearly going as a football player, which in and of itself is hysterical. I am absolutely not football player material, ha ha! Bu I do enjoy the sport.
To celebrate, I actually bought tickets back in May for Jason's birthday to a concert. Jason has been a fan of Prince since day one, and when I saw that the Detroit Symphony Orchestra was doing a concert of his music, complete with a Prince tribute artist, I snapped up tickets. I love the symphony, and since Jason loves Prince music, it was a perfect combination.
In an ideal world, we would've gone out to dinner and lingered over our meal before the concert started at 8pm, but instead, we had to scramble to find arrangements for our kids, who had hockey and/or a football game, and by the time we got everything taken care of, all we had time for was quickly reheated leftovers that we are while standing in the kitchen before we were on our way up to Rochester Hills (that's about an hour from our house on a good day).
Despite all the stress of getting there, we had a great time.
I sprung for really good seats. 😉 If you ever have a chance to see this Prince tribute artist, I highly recommend him. Obviously, he's never going to hold a candle to the real artist, but he was very good, and he also had plenty of cool inside stories from having met him and also from knowing a few of his former bandmembers. On top of that, just hearing Prince's music played with a full symphony was truly amazing!
The next morning, I ran 10 miles with two of my three girlfriends. We even added a little bit of hills into the mix, which, in our neighborhood, means running up and down the railroad overpass. 😛
After that weekend, I weighed myself, fairly confident that I would lose, since I hadn't swapped all those fit points for food. And I did…
I was really hoping to lose more than that, but again, losing is always better than gaining. I'll go ahead and save you the suspense of this week's weigh in:
So, down 1.6 pounds in two weeks. Definitely going in the right direction! This morning, when I put on one of my bigger pairs of jeans, I was happy that they were loose, even with my belt tightened at the last notch. Well I wasn't really happy, because they kept falling down… 😉
Let's talk a little bit about what happened  last week! It was kind of a big week for me with regards to my photography.  (You do know that is blog started as a way for me to post my pictures and talk about photography, right?)
The first thing that happened was a major event at JJ's school, the dedication of the new building. The Archbishop came to do the dedication, and the story made the front page of the paper in the days leading up to the event. (We are pretty small town, ha ha!) It was significant for me because I was asked by the principal to be the "official" photographer for the event. Wow, talk about pressure! That kind of thing is way out of my comfort zone, but it's also something that's close to my heart. I've mentioned often that I am a lover of history, and this school is over 100 years old, while the parish is close to 175 years old.  So to know that my pictures would help tell the story to future generations just made my heart burst with joy! I even borrowed a fancy external flash from a photographer friend of mine to help me take the best pictures I possibly could. It was a lot of fun, and a truly joyful event for our school community.
Then came Thursday night and more football. I'm happy to say that Jamie's team not only won, but one of my hockey kids actually scored his first touchdown. On top of that, Jamie made a key block to open up the hole that allowed him to score. You might think that I must really know a lot about football to have recognized that, but the truth is that I heard the coach complimenting Jamie after the play, and my husband confirmed it later. I just know that Jamie was really happy after the game, and that made me happy!
But wait, it gets better. The craziest thing happened after the JV football game. Several of Jamie's former classmates from middle and elementary school we're actually moved up to varsity this year. They are very good at their positions, not to mention our varsity team is a little thin this year from what I understand. Anyway, after the JV game, which many of these sophomore varsity players attended, one of the sophomores that I know very well came up to me in the parking lot while I was waiting for Jamie. I was shocked to see that he looked kind of nervous, and then he blurted out, "Mrs. Hawkins, I showed all of your pictures from last year's games to a bunch of the varsity players, and they all wanted me to ask you if you would come and take pictures at our varsity games this year."
I was so shocked, and at the same time I wanted to laugh. I think he thought I might actually say no, ha ha! As if. 😉 It has been my secret desire for years, basically as long as Jamie has been playing football, to be able to shoot varsity football from the sidelines. But we all know that varsity football is a totally different animal than hockey, lacrosse or even JV football, and I honestly wasn't confident that I would be allowed on the field. I had to explain to this poor young man that as much as I wanted to, I would have to get permission first, and there was no guarantee. But I told him I would try, and he was happy with that.
I told Jamie about it on the way home, and he kind of scoffed and said, "Just ask the athletic director, Mom. The worst he can say is no."  To which I replied, "Exactly!" 😛
So Jamie and I went to the varsity game on Friday night, and of course I brought my camera, figuring that even if I wasn't allowed on the field, I could still try to shoot from the stands as best I could. When we arrived, it took me about 15 minutes to work up the courage to actually go onto the field and talk to the athletic director, while Jamie stood behind me, saying in exasperation, "Mom just go! He's not going to say no!"
I did finally approach him and tentatively ask for permission to shoot the varsity games, and to my surprise and utter delight, he was extremely enthusiastic and gracious and told me I was more than welcomed to go wherever I needed to.
I was so excited! I know it sounds absolutely silly, but you have to understand that I'm really not that good of a photographer, nowhere near professional quality. If you think any of the pictures that I post here on my site are any good, you have to remember that I only post the very best two or three, but there are at least another 500 to 1000 crappy ones from the same game sitting on my hard drive. 😛
At any rate, they're willing to give me a chance. Here are a couple of decent ones from my first-ever varsity football game.
I very quickly came to realize that I have a LOT to learn (and definitely some better equipment to buy!). Shooting under the lights is hard, even with my very good (and rather expensive) lens. But although I've got a long way to go, I'm excited about the opportunity, and I look forward to many more Friday nights of shooting my favorite football team from the sidelines.
Thanks for reading!