OYes, finally, a week later… 😮  It's not that I'm trying to keep anyone in suspense; at first, I just needed some time to process it all, and then I went back to work and life got busy again.
Here's a super-quick recap:
A Goal (beat my best time 4:58:03) – Not accomplished.
B Goal (finish feeling good) – Not accomplished.
C Goal (just finish) – Accomplished.
I also had a (completely unintended) D goal:  run 26 miles in shoes that were too small. I nailed that one! 😮
Probably the best recap I could give you is to repeat here what I posted on the Hanson's marathon community Facebook page on Monday.
*****
Warning: NOT the cheeriest Hanson's story. Also, not short.😝
I am not a fast runner. There is no BQ in my future. 😂 I didn't start running until I was 40 (I'm 47). I have run two full marathons, both with the goal to finish in under 5 hours. My first (training 4 days a week) was 5:05:50, my second (training 5 days a week) was 4:58:03–yay! That was over 3 years ago. I decided last December to run the 2018 Detroit full because I've run the relay and half, and it's a great race if you love this city. My original goal was to finish "feeling good." (Relative term, of course.) But the truth is, if I'm going to run a race, I'm always going to try to run it faster than my best time. You have to TRY, right? 
Two friends mentioned the Hanson's plan to me, one who loved it, and one who was just "so so" toward it. Both had set PRs with it–one a significant PR.  I read the book–the whole thing. It made sense to me (for my lack of scientific mind), and I decided to do it. Being a slow runner, the time goal options offered were pretty slim: my choice was to train at a 4:45 finish or a 5:00 finish. It seemed silly to train for a 5-hour finish when I knew I could go faster than that, so I did all my training at the 4:45 paces. And, with the exception of one 7-mile and one 5-mile easy run, I did ALL the training. I hit all my speed, strength, and tempo paces. I got up at 3:45am and ran 10+ miles before work–eight times! 😮 I gave up a lot of fun Friday night football after-parties to run with my girlfriends at 5am on Saturday mornings, and I almost completely cut out alcohol. (One night a week–the night before my rest day.) I suffered through the Michigan humidity (my two previous marathons were spring races) and I learned to appreciate the 12- to 13-minute easy-run miles. 
And you know what? I LOVED it. It was such a challenge, and I was tired ALL the time, but every time I nailed my paces during a speed workout, every time I finished a tempo run and felt like I could go farther, every time I sat at my desk at 9am and told my coworkers, "I've already run 10 miles today–what have YOU done?!" I felt like a rock star.  That's a pretty good feeling for a short girl who runs pretty slow. 😊  
My plan for yesterday was to run in the 11-minute per mile range for at least the first half. This is slower than the 4:45 finish time, but faster than my previous finish. I also knew that my watch's pace would be slower than actual pace (it always is) so I figured that would give me a cushion for a finish in the 4:50-55 range. 
I started off great. I got excited when my pace showed a 10 in front, because that meant I could slow down (and I did!). The bridge came at mile 3 and was daunting (for a girl from the flatlands of Monroe County), but I loved that downhill and made use of it. Canada was great (love you, Canadian race spectators!), and I went through the tunnel strong.  I had my race gel every 20-30 minutes (**edited to add: I only take 1/3 at a time–that's all I can handle**) and drank more water than I've ever consumed in a race because I didn't want to get dehydrated. At mile 13, I felt great but didn't try to pick it up because I didn't see a need. I wanted to finish strong!  At mile 15, an old injury (left IT band) cropped up, which was surprising…haven't dealt with it since my first half in 2013. But I wasn't about to stop then!  I made it down that long, dreary stretch of East Lafayette and then into Indian Village (what a great group of race spectators!). I slowed down a bit on Jefferson when headed into the winds on the way to Belle Isle. At that point, I was feeling more tired, but not terrible. 
At mile 20, just over the Belle Isle Bridge, I simply HAD to stop at a portajohn…all that hydration had taken its toll.  Up to that point, I had run TWENTY MILES non-stop, and my average watch pace was 11:04 (race time says it was 11:12, as I would expect).  The moment I stopped, I knew something was wrong. I almost fell over because I was dizzy after running 20 miles non-stop. But I came out and continued to run around Belle Isle for another mile. The wind was hard; I slowed down and took another short walk break. Then I hit the bridge again and that was it. My legs felt like jello, my IT band hurt, and mentally, I felt like it wasn't worth it, and I gave up. Not totally, but I went super-slow and walked 5 times in the last 4 miles, including at mile 25.2. Finish time: 5:02:32, 4.5 minutes slower than my best time. No PR, not even a sub-5:00 finish. 😥
I felt disappointed and even a little cheated. I ran almost 700 miles in this training cycle–I was supposed to NOT hit the wall at mile 20!! I was supposed to be passing people in the second half. I was supposed to be a rock star at the finish line, fist held high, glorying in my triumph! Instead I plodded along at the end and crossed the finish line feeling like a Hanson's failure. 
I know I'm not a failure. I finished, and while it wasn't my best finish time, it wasn't my worst either. I smiled for my post-race picture and then went out to a fancy dinner with my family and celebrated with champagne.  But one day later, I'm left feeling confused, wondering what went wrong. I still like the plan. It was hard and exhausting, but even just having completed the training gives me a feeling of accomplishment, despite the fact that it didn't result in the race I'd hoped for.  Not many people have the mental toughness to run those kinds of miles. I just don't know where my "mental toughness" went yesterday. 
I will try again someday, but not anytime soon. Will I use the Hanson's plan again? Probably. But I might spend the money to get a personalized plan next time, because I feel like I didn't do a very good job on my own. 😝
Thanks for letting me go on…and on.  I just feel like it's important for people here to see that while the plan may be solid, every runner (and every race) is different!
*****
I posted that the day after the marathon, and while it isn't the most uplifting post, I think it does a pretty good job of summarizing how I felt at that point. I really did try not to be whiny, but the truth is that 18 weeks of running six days a week was a long, difficult process, and it was hard not to feel disappointed that all those miles didn't get me to my goal.  🙁
I was prepared for an uprising or a backlash against my "less than super positive" Hanson's race report.  But I should know that runners in general are an amazingly forgiving and supportive group (as anyone who is a runner can tell you). They not only didn't crucify me, they were extremely supportive and encouraging. I was overwhelmed and even tearful at the responses I got, which numbered well over 40.  Here are just a few:
"I'm sorry that you didn't have the outcome that you had hoped for. Regardless, you did great! You successfully completed 18 weeks of intensive training and completed a marathon when things didn't go your way. 26.2 miles is unpredictable. That's why marathons are so difficult. Whether or not you run another marathon, enjoy your accomplishment."
"Thank you for sharing your thoughts. I had a nearly perfect training cycle and was totally prepared to bust out a PR. It didn't happen. I felt (and still do) that I deserved it because I put in ALL the work. But it wasn't to be that day. I realize it's about the journey. I will get another chance at that PR. I will train hard and run hard again. I hope you're holding your head high today. You finished a marathon! Congratulations!"
"Nice report! Despite all the training, marathons don't always go as hoped for. Every hansons runner knows the sacrifices you made logging all those miles. And most every runner has had *that* race. Good job taking the beast down."
"Congratulations on your 2 achievements: completing the training and your marathon! 
Sorry to hear that the latter didn't go the way you hoped. I can sympathise with my 5:06 finish in Berlin where I missed my B goal of sub 5 but my training was not consistent. I do think that it is harder for us turtles not to hit the wall – just on your feet so long even if the pace is slower and you fuel. But the next one? You will do it!"
"Your story brought tears to my eyes. I know exactly how you are feeling. I am there with you. Let the dust settle. Be proud that you finished the race feeling the way you did. That takes a lot of mental toughness to keep going, no matter what. You've got the training down, many runners cant do that. It is matter of making adjustments along the way. I am giving myself a three year plan to working out these freaky ass things that happen. You can do it too! Hugs!"
"Congratulations on the marathon finish achievements. Being vertical on your feet for 5 hrs beats being horizontal on the couch any day. You're a champion. Do not let anyone or anything make you feel otherwise. Well done, well run."
Those are just a few.  There were so many more!  As much as I swore at mile 23 that I would never run again, these responses make me actually want to try again. Not that I'm actually saying I will…! 😉
Before I get into a more detailed "what went right, what went wrong" report, how about some pictures? Because pictures are always fun!  I apologize in advance that so many of them are blurry, but hey–I was running! 😉
So, if you get to feeling like I had a good time despite the misery of the last five or 6 miles, you would be right. Even with the pain in my legs and especially my feet, I still enjoyed the experience. Maybe it's just because it's my "hometown" race, but I really do think that Detroit puts on a great marathon. I mean, realistically, how many international marathons are there? I don't know, but I know that there's only one that has an underwater mile! (If I wanted to, I could even buy the shirt that proclaims it, ha ha!)
This is super long already, so I will finish it here for now.  I have some more things to say about my thoughts one-week post-race, my lessons learned (including the story about my shoes!), and what my running future might hold, but for now, this is more than enough.  I'll end with my usual post-race picture of me with my medal (yes, my head is cut off, but poor JJ had to take the picture before the sun set, and he did his best, lol!).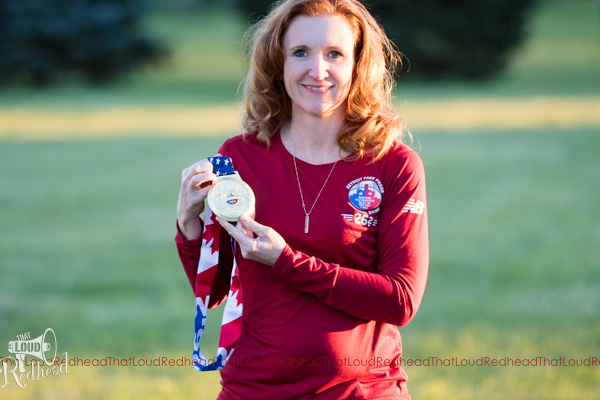 I'm very proud of that medal, because I definitely worked hard for it.  And now I can say that I am a three-time marathoner, which I'm pretty sure puts me in some rare company. 🙂
Thank you so much for reading!