If you clicked here for a diet-friendly recipe, well…just move on.  This is not the the recipe you're looking for. 😉
On the other hand…if you're all about chocolate (like me!!!), stick around and prepare to have your taste buds and possibly a few random strangers singing praises about your culinary prowess.  Because, as far as desserts go, this recipe rocks!
I decided it was time to post a dessert recipe this week, in honor of a conversation I had at my Weight Watchers meeting recently where I came to the defense of dessert. 🙂  I love dessert and almost always make room for it when budgeting my Weight Watchers points.  As a matter of fact, when I went out to a business dinner on Monday night, I was the only member of our group who ordered dessert: a huge slice of 7-layer chocolate cake.  (Go big or go home.)  I didn't care that no one else was ordering it–when I go out to dinner, I have dessert! 😀
So, because dessert has been on my mind (I say that like there are times when it's not on my mind), I bring you this delightfully decadent treat. This is another recipe I got from my friend J'nice, and has become one of my "classics."  I get requests for this dessert more often than almost any other one I make (the fruit tart is probably number one, but this is a close second).  And for good reason!  It combines three things I love: chocolate, cream cheese, and coffee.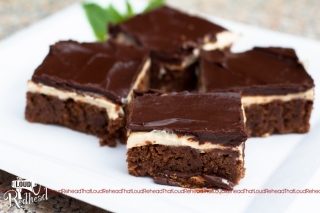 J'nice found this recipe in the November 1991 issue of Gourmet Magazine, and you can find that original recipe here.  She actually gave me a photocopy of the recipe back in 2001, when we were working together, but although I have it somewhere, I couldn't find it easily, and I'm grateful that Gourmet has it on their site.  I suspect it's pretty popular!
The only change I've made to the original recipe is to omit the nuts, because I'm not a fan of nuts in my brownies (or cakes, or bread–all things that, in my opinion, should not crunch).  Other than that, I just revel in the awesomeness of the sinfully decadent ingredients.  I don't make these brownies often anymore, simply because they are (gulp) 14 points each, and that's for a fairly small piece. (That would be 1/16th of the recipe below.)  But as a post-long-run treat, I think they're perfect. 🙂
I hope you enjoy them as much as I do!  Thanks for stopping by!
Cappuccino Brownies
MAKES ABOUT 16 BROWNIES
Source: GOURMET MAGAZINE, NOVEMBER 1991


FOR THE BROWNIE LAYER
8 oz fine-quality bittersweet chocolate, chopped
1 1/2 sticks (3/4 cup) unsalted butter, cut into pieces
2 tablespoons instant espresso powder dissolved in 1 tablespoon boiling water
1 1/2 cups sugar
2 teaspoons vanilla
4 large eggs
1 cup all-purpose flour
1/2 teaspoon salt
FOR THE CREAM CHEESE FROSTING*
8 oz low-fat cream cheese, softened
3/4 stick (6 tablespoons) unsalted butter, softened
1 1/2 cups confectioners' sugar
1 teaspoon vanilla
1 teaspoon cinnamon
FOR THE GLAZE
6 oz fine-quality bittersweet chocolate
2 tablespoons unsalted butter
1/2 cup heavy cream
1 1/2 tablespoons instant espresso powder dissolved in 1 tablespoon boiling water
MAKE THE BROWNIE LAYER:
In a metal bowl set over a pan of barely simmering water melt the chocolate with the butter and the espresso mixture, stirring until the mixture is smooth. Remove the bowl from the heat, let the mixture cool to lukewarm, and stir in the sugar and the vanilla. Stir in the eggs, 1 at a time, stirring well after each addition, stir in the flour and the salt, stirring until the mixture is just combined. Pour the mixture into a buttered and floured 13- by 9-inch baking pan, smooth the top, and bake the brownie layer in the middle of a preheated 350ºF. oven for 22 to 25 minutes, or until a tester comes out with crumbs adhering to it. Let the brownie layer cool completely in the pan on a rack.
MAKE THE CREAM CHEESE FROSTING:
In a bowl with an electric mixer cream together the cream cheese and the butter until the mixture is light and fluffy, add the confectioners' sugar, sifted, the vanilla, and the cinnamon, and beat the frosting until it is combined well.
Spread the frosting evenly over the brownie layer and chill the brownies for 1 hour, or until the frosting is firm.
MAKE THE GLAZE:
In a metal bowl set over a pan of barely simmering water melt the chocolate with the butter, the cream, and the espresso mixture, stirring until the glaze is smooth, remove the bowl from the heat, and let the glaze cool to room temperature.
Spread the glaze carefully over the frosted brownies and chill the brownies, covered, for at least 3 hours or overnight.
Cut the brownies while they are cold with a sharp knife and serve them cold or at room temperature. The brownies keep, covered and chilled, for 3 days.
PointsPlus Value:  Cut into 16 slices, they are a whopping 14 points each.  But totally worth it!!
*Just as a side note, I think this cream cheese frosting would be fantastic if the recipe were doubled and slathered on top of a carrot cake. I love carrot cake but never order it when I'm in a restaurant, because it always has nuts. I have trieed to make it myself a few times but I never seem to get it right. Maybe some day!