I remember the days when I was upset with myself if I didn't post three times a week. Now I'm all like, "Two posts in two weeks? I'm awesome!" 😛
So how is your 2018 going so far? Mine has had its ups and downs. The downs revolve around hockey, and the ups revolve around my scale. 😉
But it's not all doom and gloom. JJ had a hockey tournament last weekend in Cincinnati, and that was an interesting trip. And by interesting, I mean crappy, at least for the trip down there. It started snowing around Toledo, and it just continued to get worse as I made my way south. We actually got stopped on the freeway for about half an hour while we waited for a semi to be cleared off the road after having bounced off guard rail, and then as we got closer to Cincinnati, the snow got heavier, and the driving became treacherous. I can honestly say it was the worst winter driving conditions I've ever experienced!
Thankfully, we made it to the rink safe and sound, if not exactly on time. Poor JJ was so stressed, but he went out and skated great, and his team ended up winning that game 4-3. Afterwards, the team went back to the hotel and, as per usual, ordered pizza. Lucky for me, I was prepared and had brought all the fixings for a nice chicken spinach salad.
The next morning, I got up around seven and headed out for my Saturday long run. At the suggestion of the hotel staff, I headed toward a little village called Glendale, which was only about a mile or so away. I had mentioned that I wanted to see some interesting sites, and that I like historic things, and they directed me to Glendale. As it turns out, it was perfect! Glendale is a national historic district, and for this lover of historic architecture, it was fantastic!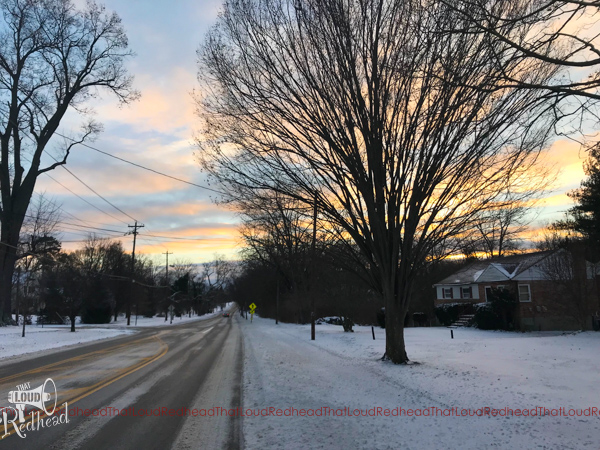 Nothing really historic in this shot, but the sunrise was so pretty!
How cool is that police station?
This is a bar/restaurant called the Cock and Bull. *snicker*
Look at that awesome train station!
So many beautiful buildings!
They had so many other great buildings and homes. It was so cool, I finally had to stop myself from taking pictures. I wasn't burning any calories because I was stopping every 20 feet, ha ha! I did, however, burn calories from all the hail work. This one was particularly challenging: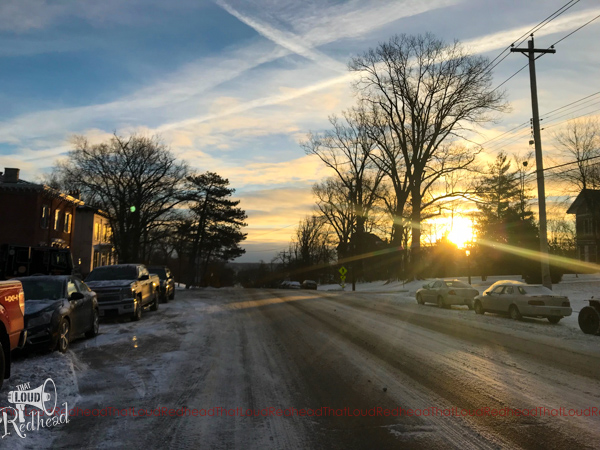 That's the view from the top, which actually doesn't look nearly as impressive as it did in real life. It was hard!!  The corresponding hill about a mile north (on my way down the return road) was so challenging, especially in the unplowed snow, I had to stop at the top and take a rest break! Those rolling hills of southern Ohio are pretty to look at, but not so fun to run on when you're used to the flatlands of Southeast Michigan. 😛
Once I headed away from Glendale, the trip got a little more challenging because the hotel clerk had sent me down a six-lane highway near a shopping area, and only the middle two lanes were plowed. 😮 That pretty much sucked, but I managed, despite the fact that people in Cincinnati were not at all accommodating to a runner forced to use the road because the sidewalks were nonexistent. (To everyone in the universe: when driving and you see someone running in the road, move the f*ck over!!)
That afternoon, JJ's team got to play at the University of Miami (Ohio) hockey stadium.
It was a very cool experience, although they did lose a nail-biter, 1-0. Still, they were playing against teams that were a year older than them, so I couldn't complain too much. After the game, we were given a tour of the locker room facilities. It was amazing!
I was happy I had brought along my good flash, because it allowed me to take some pretty cool pictures. Meanwhile, our coach's wife even managed to get a picture of me while we were in the trainers' room.
She told me to turn around and smile, and when I asked why, she said, "Because you take all the pictures, but there are never any pictures of YOU!"  Awwww. <3
It was a great experience to see how the big college hockey teams treat their players. There were lots of wide eyes among our little 11- and 12-year-old players. One of the moms on our team actually works for Little Caesars Arena, home of the Detroit Red Wings, and she commented that the facilities there at Miami were pretty on par with what the Red Wings have!
Saturday afternoon, I convinced the team to try out the local pub that I had seen in the historic building in Glendale. (The one pictured above.) Everyone agreed that it was a great choice, and I was excited to just hang out in an old building. I had a plain spinach salad with some goat cheese (I love fancy cheeses!), apples, and bacon bits.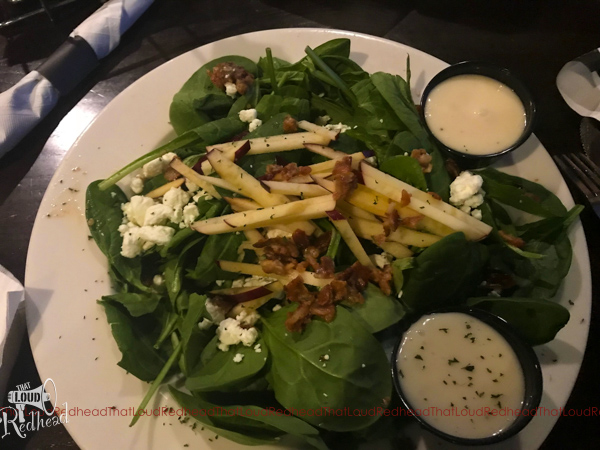 I was going to get chicken on it (because chicken breast is free on Weight Watchers!), but I actually forgot to add it, lol!
Because we ate around 5 o'clock, I knew we'd be hungry later. Luckily, I was already prepared: I had brought pasta, spaghetti sauce, and ground beef, and JJ and I enjoyed some mostacolli around 8 PM. I may have enjoyed a little too much. Oh, and I also ordered a carry out dessert from the restaurant: bread pudding. I know I didn't need it, but I did run six miles ealier, and oh my gosh, it was so good!
We had a super early game Sunday morning, and the drive to get there was 40 minutes (plus you have to arrive an hour early for hockey games…ugh). Sadly, the boys did not play well. In fact, they played so poorly that when JJ came out of the locker room, the first thing he said was, "Well, that was embarrassing." 😮  It was kind of hard not to laugh, but I knew he was down, so I just patted him on the head and said, "Let's go to breakfast!"
I wanted to try a local breakfast place, versus one of the big chain restaurants, and we ended up at a place called Lucy's Diner. It was in a town called Reading, which JJ and I determined must be the bridal salon capital of the world, because we passed no less than 10 bridal salons as we drove down the main street toward the restaurant! 😛
I had a delicious vegetable omelette (no cheese), potatoes, and rye toast. (Oh my gosh, I love rye bread!) I just let JJ talk and get out his frustrations about the game, and then we headed back to the hotel to pack up and go to the consolation game, which unfortunately was against the same team we had just played. That game didn't go any better, so we were kind of down when we left to head home.
We had to stop and get gas, and while we were at the gas station, I promised JJ a couple of snacks to tide him over until we managed to get back home and take Jamie out for dinner. And somehow or rather, I ended up buying one of these*:
It's two peanut butter cookies with a peanut butter creme filling sandwiched in between. All I can say is…how did I not know these existed before this week?? Oh my God, it was so good! I am only slightly ashamed to say that I pretty much inhaled the whole thing. In addition, JJ convinced me to buy the king size dark chocolate Kit Kat, because, dark chocolate. And Kit Kat! Definitely not my best decision.
Later that night, after we went out for Mexican with Jamie, I plugged in my two treats to see just how many points they were. The dark chocolate Kit Kat? A not-surprising 12 points. The Little Debbie peanut butter sandwich? How about a whopping 17 points! 😮 Holy shiitake mushrooms. Considering Weight Watchers only gives me 23 points in a day, those two treats were beyond excessive.
Do I even need to tell you that I gained weight this week? Well, I did.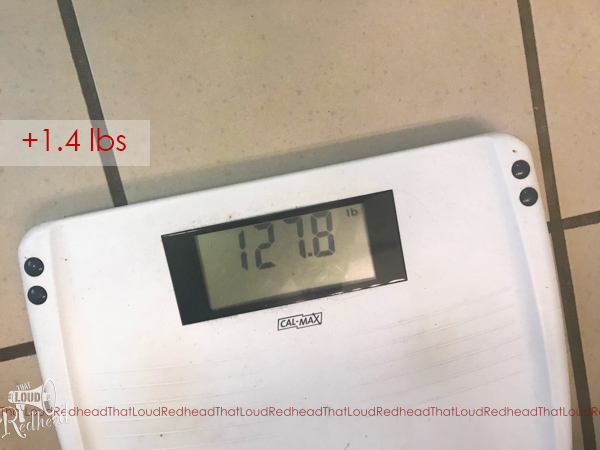 I have definitely not been feeling the Weight Watchers thing so far in 2018. I just have not had very good control this month. I'd like to say I'm going to buckle down this week and really work at healthy eating, but I'm not gonna lie: despite the fact that I am almost 8 pounds over goal weight, I am not feeling the motivation lately. Thank God I'm still running. Can you imagine how much I'd weigh if I weren't getting in about 20 miles a week??
Speaking of running, I keep forgetting to mention that I signed up for the Detroit Free Press marathon this fall. Yes, the whole, full thing. 😮 However, I haven't really been motivated to sign up for any earlier races. This winter is starting to bring me down a little bit, but I'm going to try to get out of this funk. And not by stuffing my face with more Little Debbie peanut butter cream pies.  😛
I hope you're having a great month! Thanks for reading, even when I'm not all that inspiring. 😮
*Full disclaimer, I "borrowed" that picture from fooducate.com, where they probably tell you how awful it is for you, but I was afraid to look.