The world has gotten pretty crazy since the last time I posted. To be fair, it was pretty crazy the last time I posted, but one month later, I feel like we're in a whole new level of crazy. Yesterday was America's birthday celebration, and on such a momentous occasion, I can't deny that our country has a lot of problems. A lot. But I personally wouldn't want to live anywhere else. Apparently my neighbors agree, since they lit of all the fireworks that couldn't be done by the cities and corporations last night.
A beautiful full moon, though!
So what's been going on in our lives for the past month and a half? A lot of nothing, but more than before. In late May, before the governor allowed our retail establishments to open, I snuck away to Ohio and went to a mall for the first time in ages. It felt good just to get out and be around people, even though I felt compelled to wear a mask the whole time. (It was not required, so only maybe half the people did.) I took Jamie with me, and we walked through the mall and looked at people and things. The shoe stores were packed…lines out the door, even! I think it's partly because shoes are popular, but also because they can only have so many people in the stores based on the size, and shoe stores are notoriously small.
After more than two months of being quarantined, I bought myself a reward: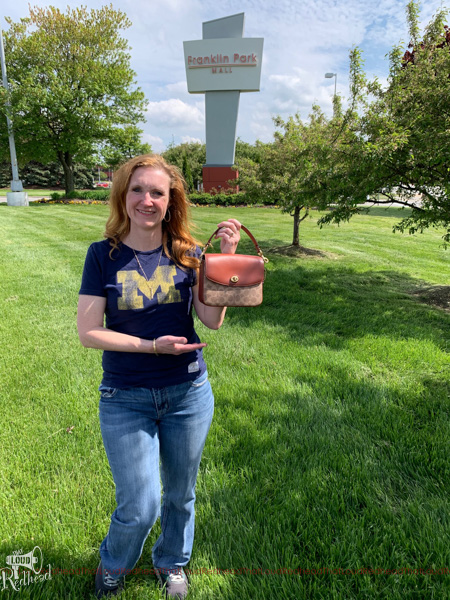 It only took me until I was almost 49 years old by my first coach purse. 😛
JJ had his "graduation" in the middle of June. It wasn't what we had hoped it would be, but I didn't have any choice.
You can tell this was before salons were open. That poor boy is cursed with his mother's curls. Good news is that he got a haircut last week. What a change!
Wait, who is that man-child? My baby is growing up fast!
Jamie hasn't graduated yet. I was holding out hope for some kind of normal graduation, since they had pushed it until July 26, but unfortunately, thanks to our governor, I've lost all hope for anything even close to normal. "Big Gretch" (Gretchen Whitmer is our governor's name) was supposed to move us into the second to the last "stage" of reopening by Fourth of July, but apparently since there has been an "uptick" in cases, we aren't allowed to be set free yet. (I have grown to detest the word "uptick.")
I think Jamie's school is the last one to not have a graduation, even a pseudo-graduation. Although we still have three weeks, I sincerely doubt much will change between now and then. Actually, there's always the possibility that we could go backwards. Considering all that Jamie lost this year already, it just makes me sad. I know things could be much worse, but I've been looking forward to this day for a long time (18 years!) and it's hard to let it go.
Jamie, meanwhile, says that he doesn't care, but I think he's just at the point where he's stopped hoping for anything, because then he won't be disappointed. The same goes for college this fall. We've been given instructions on all the precautions that students will need to take this fall while living and studying on campus, and I can assure you that the way it's going to look is nothing like what Jamie had imagined when he applied to Michigan last November. I'm sad and a little frustrated that we're going to be paying for the " Michigan experience" without actually getting most of it, but Jamie would not be swayed when I suggested to him that he live at home for the first year. This despite the fact that many if not most of his classes will be online in his freshman year, due to the fact that freshman classes are typically large. Still, he is insistent that he wants to live on campus. I could argue, but I won't. It's not a battle I think I'll win.
I'm trying to think of some happy things to talk about so this post isn't a total downer. I've been running consistently. I did hurt my back a few weeks back, and I had to take about four days off, but a couple of trips to the chiropractor and some rest helped. I've run during the week by myself, and Saturdays I've enjoyed running with my girlfriends. We've had washouts and super humid "buggy days, but we managed to get through and it's always more fun with friends.
Work has been ridiculously busy. A few weeks back, I actually had to go into the "office" for the first time since March. Technically, I didn't actually go to my own office; I had to go to one of the facilities buildings and be checked in, get my temperature taken, answer their health questions, and then pick up my pack of Ford – branded masks. Then I had to go to our proving grounds to videotape some of our team members doing testing on the track. It was a 90° day, and there is no shade on the track. It was quite miserable, but it was fun, too, and I do feel blessed to have a job. I had to get the video equipment from one of my coworkers who lives out in Saline, and on the way out to see him, I stopped at a local dairy farm that sells home-made ice cream.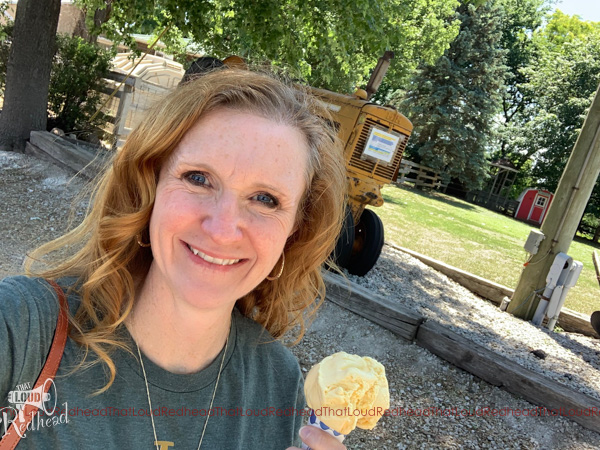 That's me with a lemon ice cream. I've never had it before, but it was amazing! I really hate that picture, though. I feel like I look very pudgy. *sigh*
JJ and I went strawberry picking last weekend.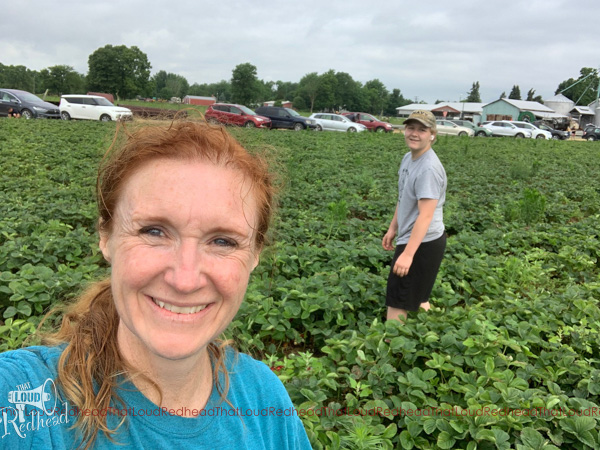 Because I lost one weekend in June due to my work at the proving grounds, plus four graduation parties to attend, I was left with one short afternoon to do jam. JJ was thrilled to do less strawberry picking than normal, ha ha! Unfortunately, the morning we picked, the two farms in our county were closed, and so we had to go to a different one. I don't know if it was because we picked right after a hard rain, or if that farm just doesn't have good berries, but they didn't turn out well. I ended up going to one of my usual farms the next morning by myself, and those berries turned out great. Small, but great! I ended up with 30 jars.
Not bad for having to pick twice and only having one afternoon to get it all done.
In health news…I think I've given up on Weight Watchers. That's hard even for me to believe. But the last time I weighed in was in February, and I was dangerously close to being over my goal range (139 is my upper limit), and that was after I took my shoes off. Prior to January, I had let them weigh me with my shoes on for almost eight years of Lifetime membership, because I was always so far under goal it didn't matter. January was the first time I had to take them off, because when I first stepped on the scale, I was over. 😮 Same in February.
And then the world went crazy and Weight Watchers couldn't be open for weigh-ins. Because I'm Lifetime, I only have to weigh in once a month, at which point I get an 8-week pass for the eTools membership. They sent me an email giving me a "pass" for March. And then April. And then May. And then they sent me a message telling me I was good through September! 😮
Now they're starting to open back up, but honestly, I just don't have the enthusiasm to go. I really hated the stress of weighing in once a month, knowing that my free Lifetime membership was all predicated on what I weighed on a single given day. I had really started enjoying the freedom of NOT being tied to the forced weigh in. Don't get me wrong…I have weighed myself faithfully every week since March (for 8 years, actually). I've even been tracking, although not as diligently as I should be.
Honestly, I'm just tired. And stressed. And depressed more than I would like to admit. The toll of three months of pandemic insanity has caught up with me, and honestly, the stress of the monthly weigh-in is one thing I can take off my plate, so that's what I'm going to do.
On the other hand…I have not fared all that well in quarantine. Below is a chart showing my weight progress since "lockdown" first began in mid-March.
You can see that I've gained about 5 pounds in the last 3 months. For the last 6 or so weeks, I've tracked consistently using My Fitness Pal (calorie-counting). (If you can't read it, my current weight is 137.2.) The problem is, it hasn't always been accurately. I have not weighed or measured anything. Honestly, it has been a long time since I've done that. In the last few weeks, I also had those graduation parties that I mentioned earlier. I've tried going low-carb for about a month, but again…I guestimated a lot, and for me, low-carb doesn't mean skipping desserts (like cake at grad parties).
So yeah, it's not a big surprise that I've gained five pounds. BUT…I have my own graduation party that I'm hosting in a little less than four weeks (regardless of what the governor says), so it's time to get serious. This past week, I've weighed, measured, and tracked everything. Right down to the Hershey's special dark kisses that I keep in my fridge. I used to just grab three or four on my way by. At the end of the day, I'd track six, but the reality is, I'd go to the fridge for them three, four, (dare I say five?) times a day. That's the downside of working from home. 😮 So yeah. It's not a big surprise I've gained five pounds. I should probably be happy it's only five.
After a week of weighing and measuring and still doing low carb, I do feel better. It's amazing how much better I feel when I do the right things for my health. I think that measuring all my food (especially my chocolate and wine!) and avoiding starchy foods like potatoes, rice, and pasta has made a difference. I know I've eaten a LOT less Hershey's kisses now that I'm being really diligent about tracking them. 😛
Oh, how could I forget to talk about the two biggest events in our household in the last two months?!
We're getting a new deck. Glory be to God! (The old one was becoming a danger!)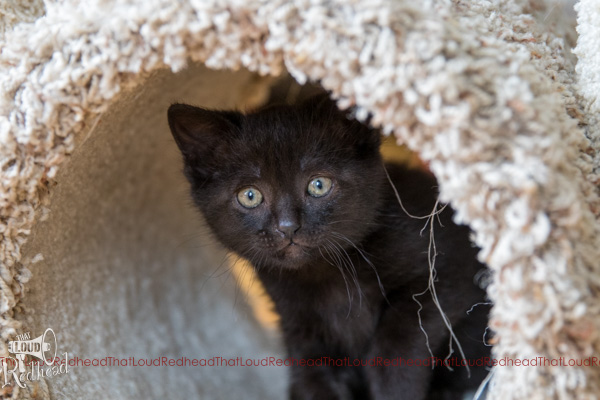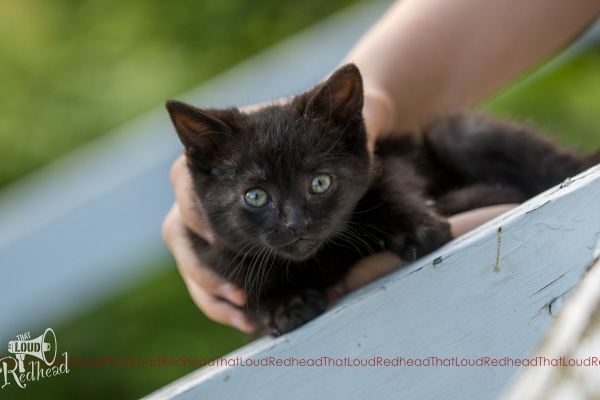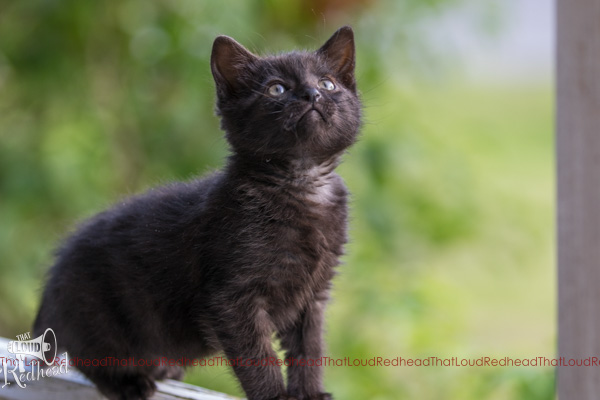 We got a new kitten!! And OMG, he's so friggin' cute. (Don't you think??) His name is Igor, named after Igor Larionov, aka, The Professor, a Russian hockey player who played with the Detroit Red Wings and helped them win three Stanley Cups in the late 90s and early 2000s. The rest of the family calls him Igor or "The Small One" (because he's smaller than our 11-year-old cat Tiger), but I gall him Iggy or Buddy. Because he's my little buddy. 😀
In other positive news…a little over a week ago, I finally got my hair done after 14 weeks. That's a long time for someone who claims to be "That Loud Redhead" but who is not actually a natural redhead to go without a hair appointment. 😉 That and the kitty and the new deck have definitely lifted my spirits.
Okay, enough! That's about two posts worth, right? Thanks for reading!