I could drag it out some, but if you just look at the featured picture for this post, you can already tell that yes, I did indeed complete a marathon. Because everyone knows you don't put the sticker on the car until you actually run the distance. 😉   I did not meet my "A" goal (sub-5:00), but I definitely killed my "B" goal (sub 5:15), and, most important of all, I finished it, so I'm happy with the outcome.  It was quite an experience, that's for sure!
I was up by 4:30 on Saturday morning, because I wanted to get to the marathon early enough to get into the "secret" parking lot that the race organizers had offered to the marathon-runners earlier in the week.  (The email we got actually said that we were being given special parking, right up front, for free, "because you rock!" That made me feel pretty special. 🙂 )  There were over 300 of us running the marathon, so I wanted to make sure I got a spot before it filled up.
After all that harsh training over the winter the weather for the morning of my race was near-perfect.
I think what I loved most about that picture is the wind speed of 0!
I arrived a little before 6am, and since the race didn't start until 7:15, I had plenty of time to kill!  It was nice to just relax, listen to  my music in the car, and even take a stroll around the start/finish area to get the lay of the land.  I hit the porta-potties a couple of times, and then my friend Carrie arrived to pick up her packet for the half-marathon.  She wasn't starting until 8:45am, but she arrived really early to see me off.  🙂  I found her near the starting line, and while we were chatting, I was surprised to turn and see my friend Jessica!  She was running the 10k and had come early to see me off, as well.  A little while later, Katie arrived with her brothers, and we got a few group shots before the marathon start.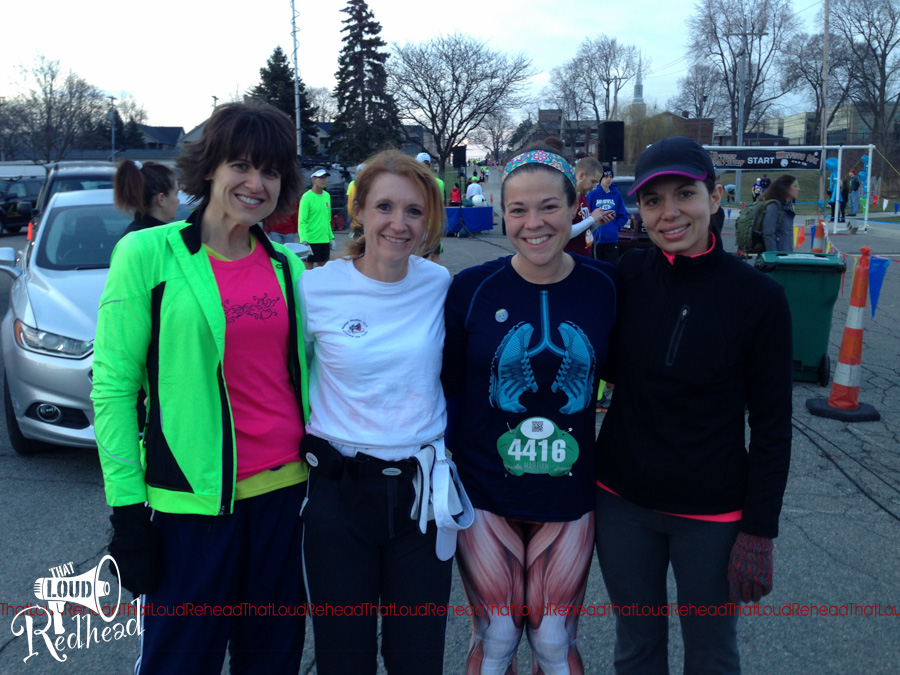 I couldn't believe I had so many people there to cheer for me as I started the race.  I felt so loved!!  While we waited, I also had someone take a picture of the shirt I created for the occasion:
Ha ha, I'm nothing if not over the top, right? 😉  Yes, I did spend way too much time (and have way too much fun) poring through data from my own weather station as well as the "official" Detroit weather station at Metro Airport to get all the stats for the shirt.  It was a lot to read, but the folks who took the time to read it got a real kick out of it, ha ha!
At about 7:12, I lined up toward the back of the marathon group.
I look pretty calm, don't I? I actually was pretty calm.  I guess I figured after all the horrible runs I had over the winter, this one couldn't be that bad, lol!
Before I knew it, they announced the start and we were off!  Carrie did her best to get a picture of me as I started…
See that guy in front, taking up most of the shot? That was the "pig guy."  You can kind of tell that he has on pig's ears and even a pig snout, ha ha!  What you can't see is that he also has a kilt on.  He was a riot! 🙂
We ran through a lovely neighborhood in Dearborn to start…lots of beautiful homes built in the 40s and 50s.  I did my best to take it easy and not start too fast…my goal was to do around 11-minute miles to start, and my friend Dave had told me that I could do as low as 10:50 for the first couple of miles, but no faster than that.  After that point, he told me to keep it at 11-11:10 for the long haul.  I actually found myself having to slow down for the first two miles, and I had a 10:50 and 10:51 respectively.
Though it was 41 degrees, which is pretty warm compared to all my winter running, my fingers, as usual, were numb within the first few minutes.  I regretted not bringing gloves, but they warmed up by mile 2, and I felt much better.  I'd made two versions of my shirt, one long-sleeve and one short-sleeve, and I found that the layers kept me nice and warm.
I kept my music off for the first two miles, because I wanted to enjoy the moment while I was still feeling good.  After mile 2, I put my headphones on, but just in one ear on low.  Right about mile 2.5, we made the turn onto Hines Drive.  For those not familiar with it, Hines Drive is a road that meanders through a park (Hines Park), following along the Rouge River.  It starts in Dearborn and runs for 17 miles to Northville (although our trek took us down 13 of those miles).
As I came up to one of the first spots where the road crossed the river at mile 2.5, I was running close to a woman and a man (not that they were necessarily running together).  As we ran together, with me just a few steps behind them, we saw geese to our right, and they began honking loudly when they saw us.  I joked that they were cheering us on, and the man and woman chuckled.
Then, to my complete surprise, two of the geese began to run toward me—like they were going to attack!  I yelled out, "Or maybe not!" as I ran away from them, which took me closer to the woman.  She and the man started laughing out loud this time, and I couldn't help but laugh, too.  The geese backed off quickly, and by then I was running in step with the man and woman, and I said, "Who knew this marathon was going to include an obstacle course!"  They both laughed again, and the woman struck up a conversation with me.  This wasn't her first marathon, and she began to tell me about some of the others she'd run.
This was the beginning of a twelve-mile stretch that I ran with this woman, whose name was Kate.  It was thanks to Kate that I learned the phrase "Marathon Maniac."  And she is a maniac, lol!  Go look up the website linked there and you'll know why. 😉  They're a bunch of people obsessed with running marathons, and Kate was in the middle of a quest where she would run 4-marathons in four different states in 51 days.  What the…?!
Despite her insanity, Kate was actually a lot of fun to talk to and very interesting (in real-life, when she's not running marathons like a freak, she's a therapist).  Kate admitted early on in our run that she always likes to run with someone, and she was looking to run around 11-minute miles, so us finding each other worked out perfectly.  I was actually planning to run more like 11:20-minute miles, but Kate was easy to talk to, and I liked that I had someone to push me a little, so I hung with her for a long time.  We walked through all the water stations (she always re-started before me and then I had to catch up, ha ha!), and we maintained a pretty steady pace.  And I learned a lot about "extreme" marathon running and therapy! 😉
My sister texted me when we hit mile 6.5 to tell me she was at the spectator station near mile 10.  I was feeling good enough to text her back and let her know where I was (while still running).  We were running through a couple of Dearborn neighborhoods at this point, and there were lots of people out on their porches and in their driveways, some with signs, cheering us on.  It was neat!  There were plenty of course volunteers as well, directing us where to turn.  Several of them had tin-foil hats that were just a riot.  I complimented one of the foil-capped volunteers on his head covering, and he yelled back, "They won't get me this time!"  I almost tripped because I was laughing so hard!
True to her word, my sister was there at mile 10, along with my nephew.  She got a few shots of me as I ran toward her.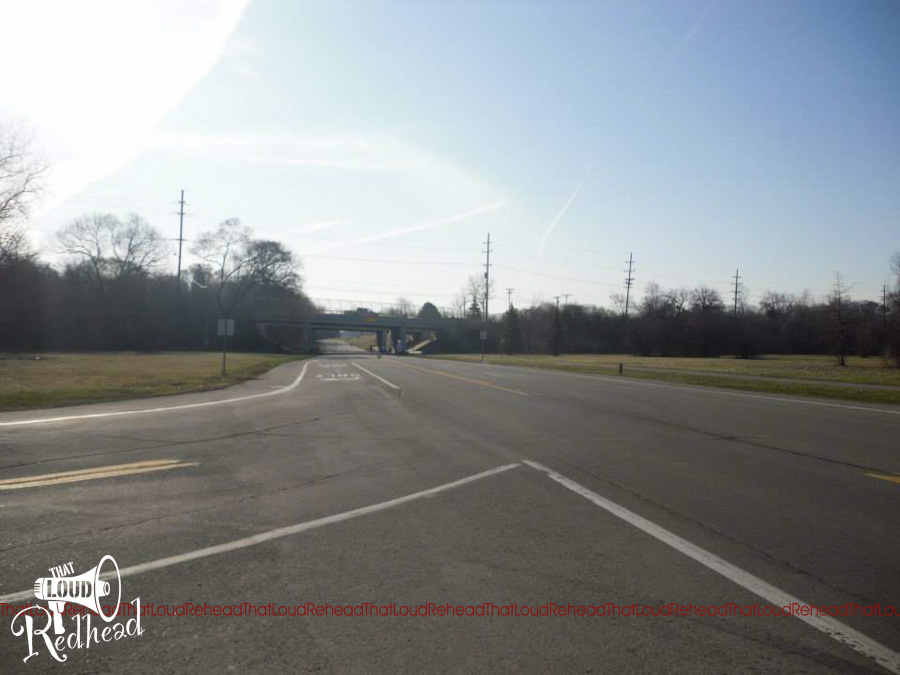 I'm there somewhere, lol!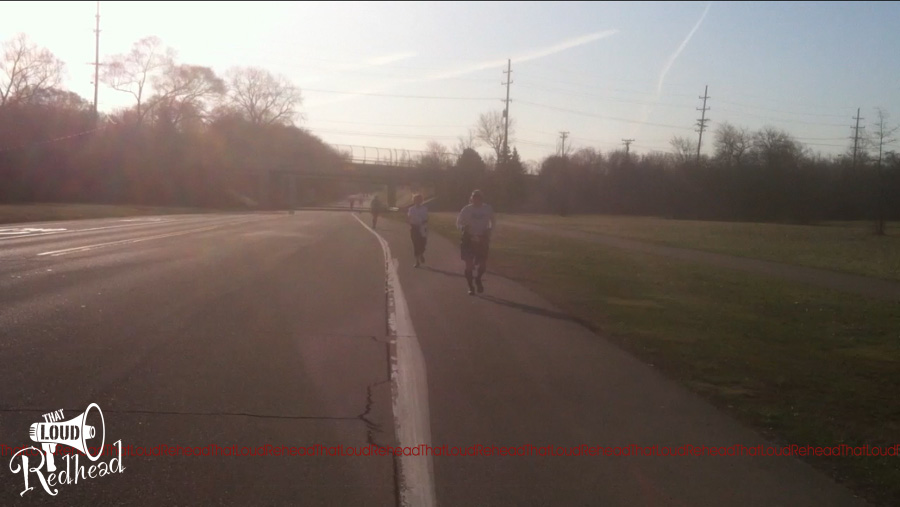 That's me in the middle of the shot with the white shirt.  Kate is behind the man in front of us.  By this time, I was getting really warm, since the temps were rising quickly and I had a long-sleeve shirt on.  In the above shot, I had actually just taken off my shirt (while running) and was holding onto it.
There's Kate and me!  Unfortunately, my sister somehow turned her camera to the video function at that point, and so those are really blurry still shots I had to get off the video.  But you can see that I am handing her my sweaty shirt.  She was thrilled, lol!
Kate and I ran for another 4 miles together, and we passed the 13.1-mile halfway point at 2:25:55…if I could keep up that pace, I'd finish in 4:52:00!  Kate made a comment that we were well within my goal of a sub-5, but I quickly pointed out to her that the last half was going to be a lot harder than the first half!
As we approached the aid station and rest stop at mile 14.5, I told Kate I had to make a pitstop (I'd drunk a lot of water!).  I wished her well and then ran in to go to the bathroom.  I was surprised at how fast I made that stop.  Kate must have stopped at the water station there, because when I got back on the road, she was only about 100-125 yards in front of me.  At that point, I made it my mission to catch up with her.  It was hard, though!  I was starting to fade, and those 11:00-minute miles were getting too hard.  Right before the turn-around point at mile 15.75, she passed me coming back, and she was really surprised to see me! I told her my goal was to catch up with her, but I didn't hear her response.
When I got to the aid station at mile 17, I still hadn't caught up to her, and I asked them when the next aid station was.  They said two miles (they thought—they weren't sure), and I decided to skip that one and make it my goal to not walk til the next one around mile 19.  I was tiiiired but still holding onto about an 11:30 pace.  I did a lot of math in my head at that point, trying to determine if what pace I could run to still get to a sub-5.  I came to the determination that 11:30-miles would get me there with a bit of time to spare, so I pushed on.  Unfortunately, the winds had picked up by that time, and of course they were coming from the south and east, the same direction I was running.  Argh!  Still, it could have been worse…it could have been snowing, right? 😉
As I approached mile 19 (by this time, my Garmin was more the .15 miles ahead of the mile-markers 🙁 ), I was ready for a break…I hadn't walked in over 4 miles!  I decided that if I didn't see an aid-station at mile 19, I was going to stop and walk anyway.  I knew Kate was still up ahead of me, but though I'd gained on her at first, I was still close to 100 yards behind her.  Just as I rounded the corner that would bring me to mile 19, I saw the water stop ahead, and I was soooo happy.  I walked through that station and took some water, since both my bottles were nearly empty.  By this time, my legs were really, really hurting, and I was really tired.
It was hard to get moving again after that stop, but I did, and then, within another half-mile, a horrible thing happened.  My knee—my other knee, not the one that I injured last year—began to have sharp, shooting pains.  After I gasped at the pain, I literally said out loud, "What the f…?!"  This knee has never given me trouble before!  Suddenly it was giving me the same trouble (in the IT band area) that the left one had given me on and off for the last year.  I was so frustrated, I wanted to cry.  But by that time, I was almost at mile 20—there was no way I was going to quit!  So I kept running, but I slowed it down a bit.
Right after that happened, I was running at a spot where Hines Drive runs parallel to another main road.  I I could see Kate running just ahead of me, and just ahead of her, I saw two women with a sign, who were cheering for a friend or relative.  I was so tired by that time, I was zoning out, but I remember thinking, "Well if they're still here cheering, there must be someone who's going slower than me that they're waiting for."  As I got closer, they began to cheer louder, and I half-heartedly looked around to see if I could find their friend…and then I got close enough to read the sign.  It said, "Go Steph!"
It was Katie and Jessica!!  I was astonished, and yet, I was so tired, I could hardly appreciate it.  As I got close to them, they shouted encouragements, and, because they could (since I was at about a 12-minute mile at this point), they ran next to me for quite a ways.  They gave me little pep-talks and asked me if I needed anything.  I was too tired to talk, but then Jessica asked me if I wanted a refill on my water bottle.  I didn't think I needed it, but I figured I'd take it, if only to make her feel like she was helping. 😉 She refilled one and offered to refill the other, but I waved her off.  I was so tired and my knee was hurting so much, I just didn't want to have to exert the mental effort to keep engaging with them.  I feel bad now, but at the time, just to focus on what they were saying took more effort that I had in me.
They gave me a few last words of encouragement, telling me that I was going to finish, and then they left to make it back to the finish line.  Although I was out of it, I did register their confidence in my ability to finish, and just that little bit of encouragement helped.
By that time, Kate had slowed down and said she was going to run with me.  I told her to go on, that I was going to be running really slow, but she said that her hip was hurting her and she needed to run at that pace.  I nodded and kept running, and then she quietly said something I will probably always remember, something that I came to truly understand an hour later when I was crossing the finish line.
"They say the first half of a marathon is 20 miles. The second half is 6.2."
We ran together in silence for the next mile or so, and then we came to another aid station.  We both stopped to walk for a water break, and they offered us Gu.  Kate replied that she didn't want Gu, but she'd like to have a bathroom, thanks to all the Gu they'd offered us earlier. I wanted to laugh but was too tired.  We started up again, and then, in about another ¾ of a mile, we came upon a bathroom.  This time, it was Kate's turn to wave me off so that she could use the restroom.  She told me I was doing great and that I would finish.  She added that all I needed was 12-minute miles to beat my goal.  I knew, however, that her math was off…both of our Garmins were registering .17 miles more than the course markers by that time (I could hear hers beep almost in sync with mine at each mile), and with the added .2 that everyone always forgets about when they're thinking about distance remaining, 12-minute miles wouldn't cut it.
I plodded on from there by myself, and I kept waiting for the point at which we'd get back to Ford Road, because I knew that was the last leg.  It seemed to take so much longer than I expected!  I wanted so desperately to do the 11:30-minute miles that I knew could get me within striking distance of my "A" goal, but my knee kept hurting me, especially on the downhills, and I just couldn't do it.  I was able to keep in the 12-minute per mile range until mile 24, but then I had a bunch of uphills and I was just too tired.  At that point, I realized that the sub-5 was not in my grasp, and I decided to just slow down and take it easy on my knee and my legs instead of trying to kill myself for nothing.
By this time, I knew I was among the last of the marathon finishers…as I passed each water station, there was only one person handing out water, and in a few spots, they were packing things up.  That was rather disheartening, but I figured I couldn't be last, because I'd been passing people.  There were actually a surprising number of folks still on the course cheering, especially when we went by the two colleges.  Gotta love the enthusiasm of those college kids! 😉  When I was rounding a corner at mile 25, a volunteer who was directing people saw me and called out, "Way to go, Full! Only a mile to go—you got this!"  It was funny to be referred to as "Full"…even though I knew I was probably one of the last "Fulls" he was going to see, I felt good getting recognized for running the whole 26.2. 🙂
When I got off the college campuses and onto Brady Street, which was the second to last road, the volunteer at the end was very encouraging.  "Enjoy this downhill, then make a turn and you're there!"  At that point, I saw Katie coming toward me.
She gave me another pep talk, and since I was in the last 2/10s by that time, I somehow found a surge of energy to get me back into the 11:30 range.  When I rounded the last corner, I expected the finish line to be right there, but of course it wasn't. 😛  It never is!
I talked myself through it though, and headed down that never-ending chute to the finish line.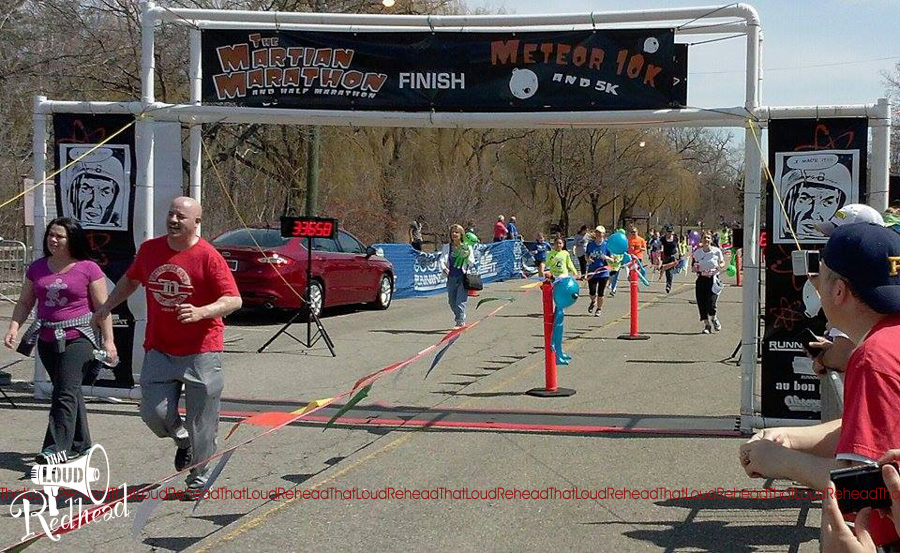 I crossed at 5:05:50.
Katie got that shot just as I crossed, and it's my favorite of the whole day, because you can see Jamie (in his baseball uniform) cheering me across.  It made me all teary when I saw it.
I was so tired when I was done, I didn't even stop right away…it was another 15 or so feet before I realized I didn't have to run anymore, ha ha!  I saw Jamie first, and then I saw everyone else.  And I hugged them all…mostly so they could hold me up. 😉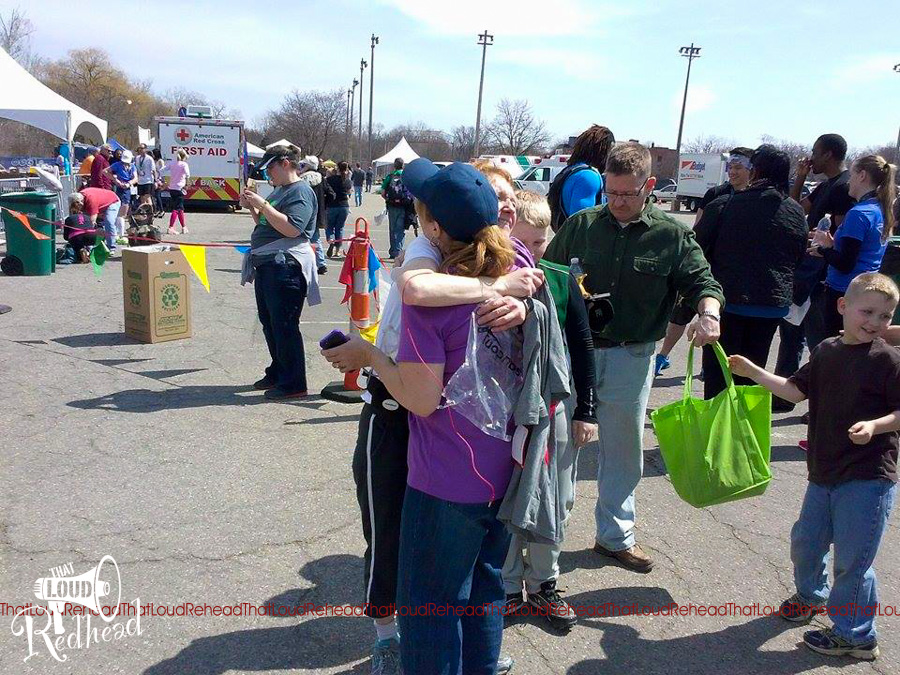 Once I recuperated a little, I got lots of post-run pictures with my family and friends.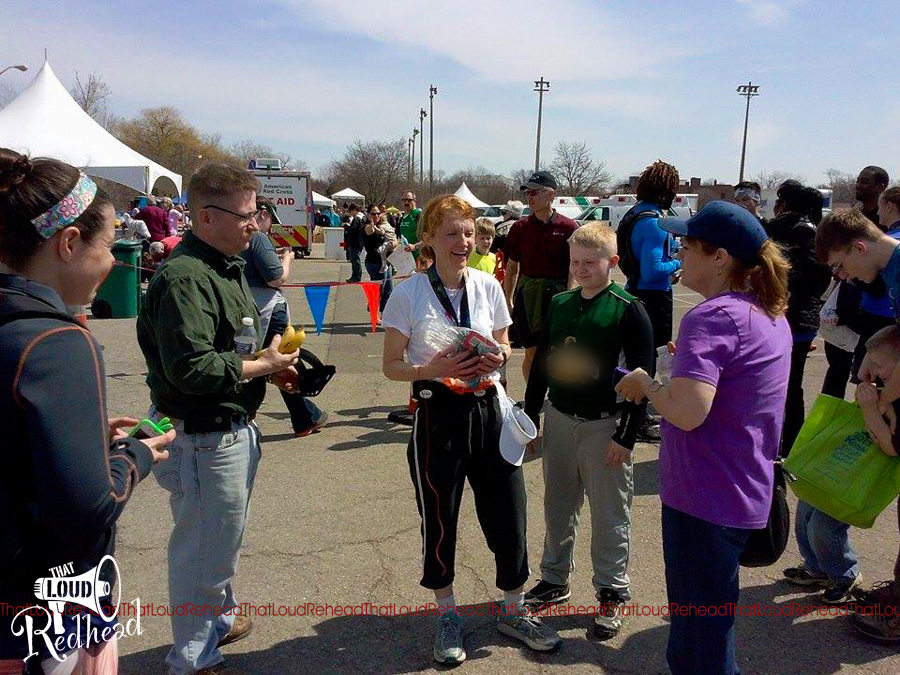 That's my reaction to my sister giving me a shirt that says 26.2 on it. 🙂
And then Kate found me!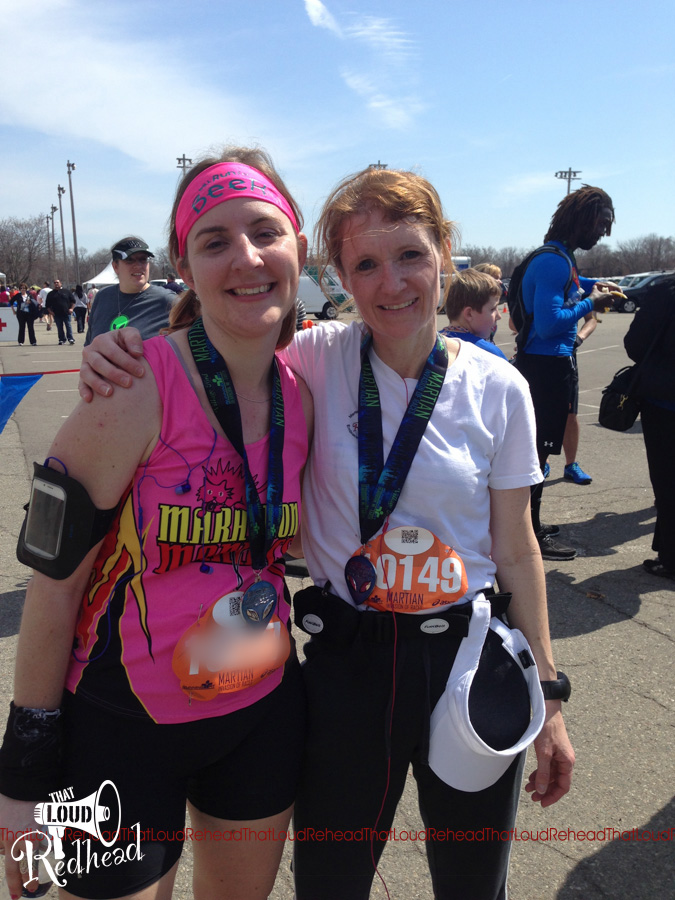 She crossed just a few minutes after me, and I was so glad she found me.  I made sure to thank her for "pacing" me for so long, and I wished her luck on her upcoming marathons.  I'm so very grateful that God put her on my marathon route on Saturday. 🙂  I know I could not have finished as well as I did without her.
Jason and the boys had to go catch up with one of JJ's hockey friends who was running the kids' race, since we were taking him home for the afternoon.  I took a few minutes to recuperate before driving myself home, and Carrie snapped this shot of me with my medal.
That's a pretty good smile for someone who had just run 26 miles!  I was soooo sore, but I was really happy, and I was so proud of my medal.  Every time I thought about the fact that I was a marathoner, I got a little choked up.  I answered a bunch of texts and posted the above picture to social media, since I had so many people cheering me on virtually, and then I drove myself home.  The drive wasn't as bad as I thought, but getting out of the car was rough.  I had a surprise to greet me when I got to the door, though!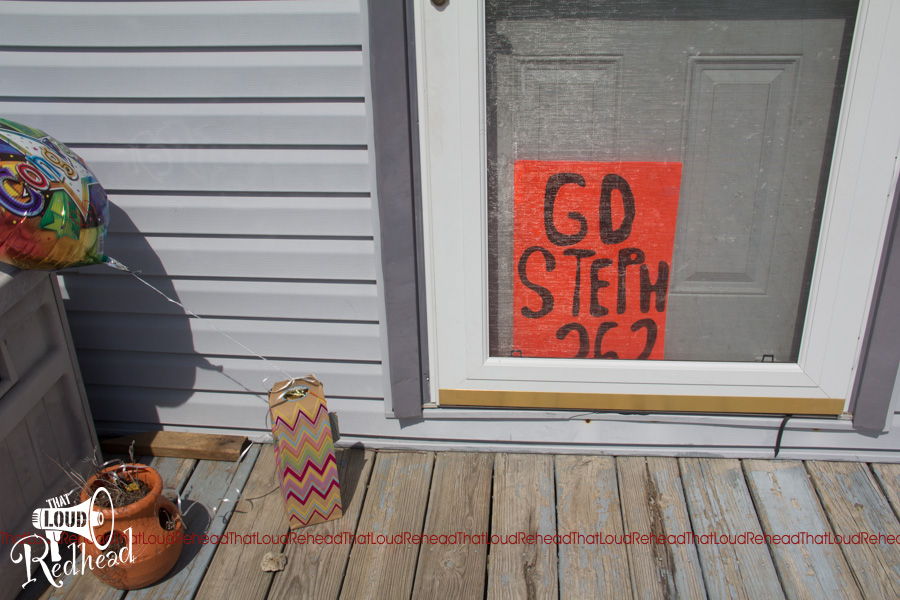 That's the sign that Jess was holding when I saw her and Katie at mile 20, along with a bottle of wine, which was pretty awesome. 😉  I love my friends!!
You'd think I would have gone right to bed at that point, but…no!  I took a quick shower and then headed back out for my first post-marathon treat: getting my hair done like a real girl!
That's me with my hockey-mom friend Emily.  I had asked her weeks ago if she'd do my hair for me before the reward dinner I'd planned with my family.  If you've seen any of my before pictures, you know I used to have really short hair, and in fact, I had short hair until about 6 years ago, when I decided to a) dye it red and b) grow it out.  Since I missed the opportunity for all the "cool" up-do's when I was in my "bridesmaid" phase 15 years ago, I decided that running a marathon was a great excuse to get my hair done up right. 😉  Here's the finished product.
I was so geeked about my hair…I've never had anything like that done before.  I felt like a princess!
Of course, before we could do dinner, because I'm not just a marathoner, but a hockey-mom marathoner…I had to go to a hockey game.  Let me tell you, sitting in the bleachers to watch a game after running a marathon was hard (my legs were so sore!), but I did it.  After the game, we got a family picture of us all dressed up—in the hockey rink, lol!
Yes, I wore those shoes all night!
Dinner was at a very fancy Italian restaurant in Detroit.  So fancy, we had to explain to JJ that it didn't have a kids menu. 😉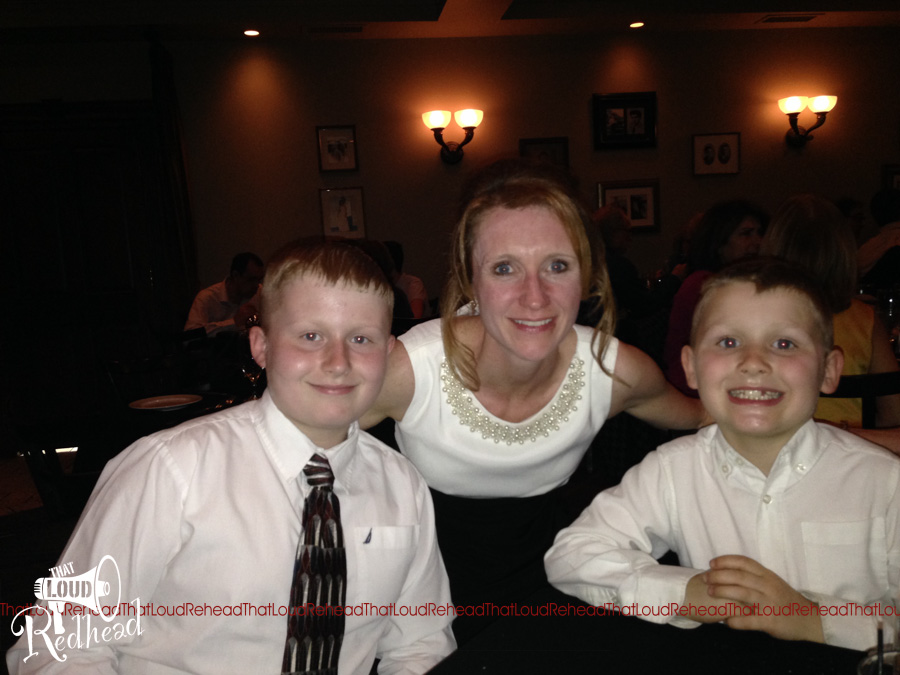 Don't my boys clean up nice? Everyone had dessert, and I sampled them all, besides eating my own flourless chocolate cake with ganache and raspberry sauce.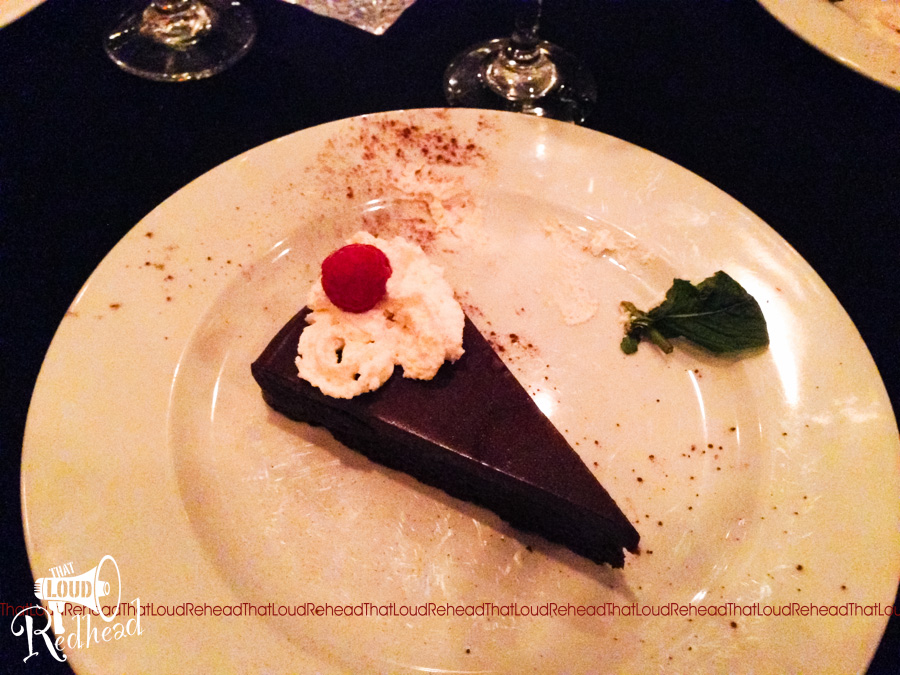 Not the best picture, but my phone can only do so much in a dark restaurant.
The next day, I slept in…not!  I got up early for church, then drove 90 minutes to Port Huron for JJ's hockey game.  Instead of going straight home afterward, I took JJ grocery shopping (we were out of food!).  Finally, after all that, I went home and had the chance to do the all-important sticker-placement.
As I look back on the day, I can think of things I wish I had known ahead of time, and things I'd do differently.  The truth is, there's a lot that no one can tell you about running 26.2 miles…you have to experience it first hand.  I had no idea how much my legs would hurt in those last 6 miles.  I had no idea how hard it would be to push myself to finish, much less to finish in five hours.  Everyone tells me that most of marathon running is mental, and it probably is, but the physical part really does a number on you, too!  I'm not going to pretend that I'm not disappointed about finishing in more than 5 hours, but the reality is that five hours isn't a "magic" number…it's just a number.  If you look at it from the standpoint that I was only 6 minutes shy of a 300-minute goal, well…that's only 2% off, and that means I got a 98%.  And that's a high A, dude!! 😉
Now, since I'm closing in on word number 4000 of this post, I think it's time to wrap it up, lol!!  Thank you so much for reading (or skimming…that's okay, too, lol!), and a special thank-you to those who have followed along with me on this journey.  I'm proud to say I've come a very long way from the girl who had to sit for 30 minutes to catch her breath after walking a mile up a hill to Tiberius' leap!
I am a marathoner!!!