It's high time for a hockey-themed post!!  The youngest finally had some spring games this week, and I was so excited to finally take some hockey pictures again.  Or at least, I was excited until I learned where he'd be playing. 
The practice arena.
I am positive this has to be a universal thing in the hockey world, this hatred of "the practice arena."  It seems like just about every rink has one…it's that "forgotten" sheet of ice, back in the nether regions of the rink, mostly just an afterthought.  If there's a high school or other "upper level" team that plays out of the rink, this is the arena where they, obviously, practice.  That means it's poorly-designed, dirty, dimly-lit, and oh yeah–frickin' A cold!!!
There is an arena in our local area where the practice arena is well-known for being all of those things.  Everyone I talk to, from many different hockey associations, has a negative response when told that they will be playing at that rink's practice arena.  Last Saturday, I showed up for DS#2's first game of the season at this rink, and was so excited that we weren't going to have to play on that sheet of ice.  But, as fate would have it, the sheet we were supposed to play on hadn't been cut, so they offered us the only other option…the practice arena.
True to my memory, the glass was filthy, the space was cramped, and it was %&$(# cold! I took the best shots I could, but I'm not sure even the most expensive camera could overcome "the practice arena."  Here are a few for posterity, anyway.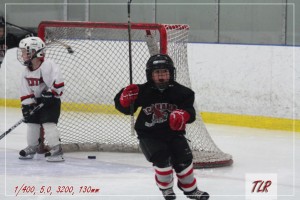 DS#2 doesn't care what rink he's in, as long as he gets to play hockey! 😉
The next day, I was invited to attend a game for some of DS#1's former teammates.  Four of them all landed on the same team, so I was thrilled to be able to cheer for so many old friends at their first game.  And of course, take some pictures. 😉 On the way to the rink (same one as the day before), my friend texted me, "Oh, and by the way…we're in the practice arena."
Curses…foiled again.
Here are the four best shots I could find.  Believe me, that isn't saying much for this arena. I can only hope I have better luck this season at other rinks!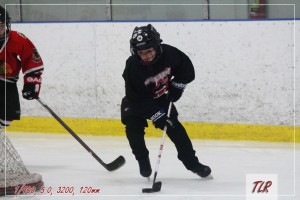 The last one is probably the best shot of all the ones I took at either game.  I think I found the one itty bitty clean spot of glass in the whole rink that moment. :p
Thanks for looking at my (awful) photos.