Okay, we'll just start right off with the bad news.
Damn it all to hell, another gain—almost a pound.  Truly, it is blowing my mind.  I've complained about it enough that I won't do it again here, but I will say that I've decided I really do need to do something different.  I've been putting it off for a while, because running is really my favorite type of exercise, but I think it's time to cut down on the running and branch out.
I've seen some stuff about "cross-fit" appear in my BlogLovin' feed, and one blogger in particular swears that running and cross-fit do go well together. (And she looks pretty good, so there's some physical evidence to support it, right?)
I've also heard about the HIIT, high intensity interval training, which was mentioned by my friend Kelly at Sublurban Mama on a previous post I'd made, which is appealing for its short time commitment. Not so appealing for the effort required. :/
I've been doing some research on both and haven't made up my mind yet.  My strength training regimen right now is one that was set up by my husband when I asked him to come up with a plan that would work all my major muscle groups but that could be done in just two days per week.  I've been doing it for about a year, and the exercises I do are:
Day 1
Dead lifts (10 reps x 4 sets)
Overhead presses (6 x 3)
Lat machine pull downs (6 x 3)
Bench press (6 x 3)
Pull overs (6 x 3)
Leg extensions (8 x 3)
Day 2
Squats (10 reps x 4 sets)
Calf raises (10 x 3)
Bent over rows (6 x 3)
Leg presses (6 x 3)
Bicep curls (6 x 3)
Skull busters (6 x 3)
I don't mind doing them (okay, a couple of them I do), and I like having muscle definition, which I never had before.  But more importantly, I believe that the strength training has helped keep me injury free for 2+ years while running, and after the challenges of injuring my IT band in spring 2013, I don't ever want to go back there again!  But I think I need to make my body work in different ways to get it over this plateau.  Since my husband is my "personal trainer," I'm going to talk to him and ask him to look over those two options and see if he can come up with a new plan for me.  I'm not exactly looking forward to it, since they both sound difficult, but I figure I should at least give something new a try!
So, beyond the scale issues, I had a pretty good weekend.  My friend Katie from Runs for Cookies texted me Friday night to see if I was running on Saturday morning.  I had 9 on the schedule, and she had 6, so we decided to meet up at 6am and run six together.  It was destined to be yet another hot, humid day, and the forecasted temps and humidity were not looking good.  I knew that it would be extremely hard to go back out after running six and do another 3 by myself (especially since the sun would be up by then), so I determined I would get to the meeting spot a half-hour early and run 3 on my own before Katie even got there.  Sounds pretty ambitious, doesn't it? 😉
And yet…when 4:45am rolled around the next morning, I somehow managed to drag my happy ass out of bed and get to the meeting spot by 5:20am.  I'm not even sure how, ha ha!  When I arrived, an SUV pulled into the lot right after me, and I was worried that I was going to get told I couldn't park there.  But nope…he was just patrolling the area, probably looking for drug deals or something. (Hmmm…that's comforting.)  I had brought my reflective vest and my pepper spray, but seeing the patrolling office made me feel just that much better.  I actually saw him a couple of times while I ran a three-mile circuitous out-and-back-and-out-and-back-again around the neighborhood.  I was a bit worried about running on the road, but then I realize that in the cities—they have actual sidewalks! Ha ha!
The run was uneventful, but I did see one funny thing: I ran by a flower shop with a big picture window for display, and as I ran by, a big cat jumped in the window and was hopping around as if he wanted to come out and greet me.  It was startling at first, but he was adorable!  I passed by the same flower shop twice more, but I never saw him again, so, sadly, no picture.
I ran about an 11:14, which is slower than my more recent long runs.  But God, it was humid!  As I came back to my car at the end of the run (which I'd actually overshot by .2 miles…grrrr), I saw another car in the lot.  Katie was there early!  Luckily, she hadn't been waiting long, and we chatted for a couple of minutes before we headed out again.  I was worried that my pace would be too slow for her, especially on such a humid day, but she was happy to do 11-minute miles and even suggested a 5-minute run, 30 second walk ratio.  I personally loved that idea! She set her watch to give us alerts at the right times, and we set out.  I'll have to look and see if my watch will do that…it's a neat feature!
I had 3.2 miles on my watch when we started, but I hit my lap button immediately so my lap signals would be in sync with hers.  We ran a simple out-and-back for a total of six miles (though any running in that weather could hardly be called "simple"). The walk breaks were nice to look forward to, for sure, but they seemed a lot shorter than 30 seconds.  I did actually count off one of the breaks toward the end, just to be absolutely sure the time was right.  It was. :p
The sunrise was very pretty, but because we were in the suburbs, the pictures weren't impressive.
We did manage to get a shot of us on top of the freeway bridge.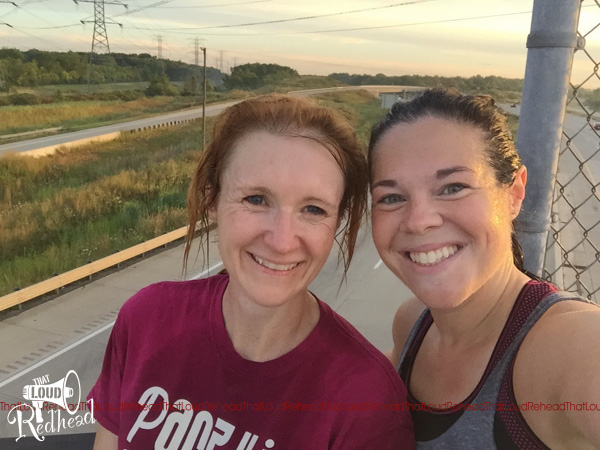 I love the sky in the background of that one!
It was a nice run, despite the weather.  I like to think that I'm a good solo runner, but I do find that running with friends is a lot more fun. We stopped at a light twice, and although Katie stopped her watch, I didn't (I will usually forget to restart it, ha ha!).  So my moving pace is faster than my overall pace, but I think we did pretty darn well, all things considered.
And I was so glad when it was over that I didn't have to go run another three miles. 😉  My average moving pace for all 9 miles was 11:10—pretty good for 97% humidity!!
When I got home, I had promised JJ I would join him for a one-mile run (he is training for an October 5k).  We only did a mile because he had had a hockey clinic all week, and with the heat and humidity, I didn't see a need for him to do more.  He started off slow (11:39 at the half), but managed a 10:59 at the finish. I was really proud of him!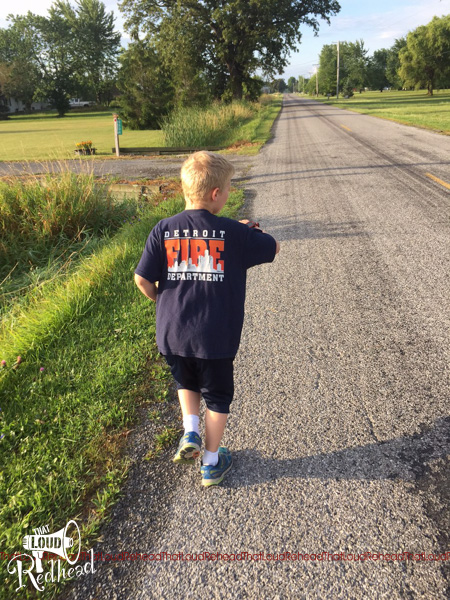 Jamie later went out and ran 2.5 miles—poor kid was sweating profusely by the time he was done, but he did it, and I was very proud of him.  Then, the next day, he did sprints to help him get faster for football.  The kid is nuts!  But he seemed to enjoy pushing himself, so I just made sure he had lots of water available.
That was our very hot weekend—thanks for reading!