There was a lot of fun this past weekend in Chicago as my friends, Renee, Jessica and I prepared to run the Chicago Half Marathon.  We had quite an adventure, which included…
A lot of sight-seeing downtown.
A visit with a very strange-looking statue.
An opportunity to sit on the couch of Bob Newhart himself.
(I missed a prime opportunity to speak with him about my running obsession.)
More downtown sight-seeing.
A visit to Wrigleyville.
(Don't worry, I was just visiting.  This Tigers girl didn't buy anything. 😉 )
Some awesome bargains at Marshall Fields (oh, whatever…I don't care what they call it now!).
A delicious carb-loading dinner the night before the race.
I even had wine with my dinner…unheard of for me the night before a run!
My favorite part of the trip—a visit to the beach! (I had no idea that Chicago had a beach, and I've been there more than a dozen times!)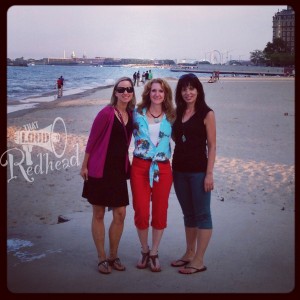 And that was everything that led up to race morning.  We had a fantastic time on our visit to the city, which was really good, because it made up for the actual run. 😛
Renee, Jessica and I woke up at 4am to ensure we would have time to walk to our shuttle pick-up by 5:30am.  As we walked about a mile to the pick-up, we were concerned about the weather—it was 70 degrees and muggy. That was not a good sign. 🙁
The shuttle was a school bus, and it took us from downtown Chicago all the way to Jackson Park, where the race started.  Unfortunately, there was a ton of traffic as we got closer to the park (at 6am, for crying out loud!), and we spent a lot of time just crawling along Lakeshore.  We got to the park about 6:15, then we all hit the portapotties before checking our gear.  The lines for the porta potties were long, of course, and we barely had time to snap a picture before we had to go our separate ways to get to our starting positions.
I tried to take one more restroom break, but I just didn't have time. (There is never time!)  Instead, I went to line up with the 2:10 pacer, only…I couldn't get anywhere near him (actually, them; there were two).  There were so many runners! I swear, it seemed like 2:10 was the most popular pace.
I struggled with what to do.  I didn't want to line up way behind, because I didn't want to be forced to try to catch up with the pacers.  I decided I would line up right in front of the 2:10 pacers, and then I'd lag back just a bit to keep up with them when things thinned out.
As it turned out, that was an awful idea. 🙁  As we started forward, I was caught in all the throngs of people and had a hard time just keeping from bumping into everyone.  By the time I thought to look back and make sure the 2:10 pacers were behind me, I couldn't see them at all!  At which point I thought to myself, "Well, now I'm screwed!"  Because I ended up starting much farther ahead of them than I'd planned, I knew that if I tried to slow down to stay with them, I would be assured of not finishing in 2:10. 🙁
I determined I'd try to maintain my goal pace on my own.  Unfortunately, within half a mile, I was dripping in sweat.  I looked up the weather later, and the temp at race time was 72 degrees with 90% humidity.  I was miserable and I'd barely even started—I couldn't imagine doing 13 miles in that!
For the first two miles, I kept looking back to find the pacers, but it wasn't until I turned a corner that I finally saw them—at least a quarter mile behind me!  I wanted to cry…I felt like fate had conspired against me in numerous ways (some not listed here because there are just some things that don't belong on my blog, but suffice it to say I had other issues that day!).
A little after the two mile mark, I mentally said to heck with my 2:10 goal.  Instead, I decided to just try to stick with the 2:10 pacers for the remainder of the race, even though it meant stopping and waiting for them.  I went off to the side and waited for all the racers to pass me until the 2:10 pacers caught up, and then I fell into step with them.  There were two, as I mentioned, and one seemed more experienced, while the other seemed to be pacing for the first time.
I had mentioned in the race reports for my first half-marathon and my last 10k how much I loved having a pacer, and how awesome both of those pacers were.  Phenomenal doesn't even begin to describe them, and I decided that I would always run with a pacer because they provided such a great service (and for free!).  You can read both of those linked reports to see what I'm talking about.  That's why I decided to shoot for a 2:10 pace for this half-marathon instead of my original goal of 2:15 (which I felt was a much more reasonable goal after my 2:16:17 finish in June).
Without going into too much detail, I'll just say that my experience at this race with the pacers was not what I had come to expect.  I don't want to be all negative on the Internet about strangers, but I will say that from now on, I'm not going to assume I'll run with a pace group.  It turns out that all pacers are not created equal!  I guess I was just lucky that I got two really great ones in my first two opportunities to run with a pacer.
Because I was trying to at least stay at the 9:55 pace for the most part, I ran with the pacers for as long as I could.  I was tired and dripping sweat, and it was hard to find energy to keep up.  I discovered pretty quickly, unfortunately, that these pacers did not build in time to walk through the water stops. (That was probably my biggest pet peeve about these pacers, though there were a few others.)   When I finally figured this out, around mile 6, I decided I would try to run ahead of them and just run my own race.
I remember it was not long after mile 6 that I saw an interesting exchange.  I saw a woman lag back to the side and stop, holding onto her calf or ankle.  I passed her, since there wasn't much I could do, and a moment later, a man in front of me turned to look behind him, then he quickly stopped and ran back toward the woman who had stopped.  As I ran further away, I heard him yelling, "Come on, Tracey! Come on! Don't quit!"  He wasn't saying it in a nice, encouraging way, either.  He was kind of mean about it.  I wondered about that exchange for a while.  On the one hand, I wanted to smack him and say, "Dude! It's hot as hell and she's hurt! Shut up and leave her alone!"  But then I had second thoughts.  For all I knew, he was Tracey's personal trainer and he was giving her "tough love" to keep her from falling short of a goal she'd worked so hard for, and he knew she could do it if she just didn't give up.  It was an interesting scenario, but whatever the truth, I was just glad I wasn't Tracey!
Somehow, at mile 7 or so, I found a burst of energy, and I got quite a bit ahead of them.  Yay me!  Unfortunately, it wasn't long after that (about mile 8.5) that we hit the one major hill of the course: an overpass at the turnaround point.  I worked so hard to go up that overpass intelligently, but despite my best efforts, I lost all my energy as well as my enthusiasm right after that.  I was still pretty close to the 2:10 pacers at that point, but it was getting really hard.  The last time I had stopped to walk was back at mile 2.5, when I'd waited for the pacers; other than that, I'd run through all the water breaks because the pacers had run through them.  I think I only actually took water at one, because I quickly discovered it was too difficult to choke it down while I ran.
By mile 10, my body had had enough, and I finally had to walk.  I heard someone say there was a water station just up ahead, and I started running again (a little slower), figuring I'd wait to walk until the water station.  Turns out it wasn't "just up ahead"—it was another mile and a half away!  I didn't know that until I got there, though, so I kept running.  When I got there, I actually stopped, took the time to refill my water bottle, and even did a really quick porta potty pitstop to adjust some stuff.
Once I started up again, I felt confident I could make it to the finish line, even though my Garmin was telling me I was way, way off a 2:10 finish.  At that point, I just hoped for a better time than my last one, and maybe, just maybe I might make it in 2:15, though that seemed unlikely.  I kept going, though, and at that point, I slowed just to a 10:20-30 pace, which allowed me to breathe a little better.  The crowd had finally thinned out, and I started to get lots of compliments on my skirt, which always makes me smile.  I slapped hands with a bunch of bystanders, which was fun, and I chuckled at the sign that read, "You trained longer than Kim Kardashian was married!"
As we got toward the end, I rounded a corner and saw a pretty neat sight.
I later learned that the statue is the "Statue of the Republic," built in 1918, for the 25th anniversary of the Columbian Exposition.  She's also known as "The Golden Lady," although she's really made of bronze.  (My dad's neighbors looked this up for me, lol!)   That's my first "finish line statue," lol!  I had a tiny burst of energy at the end, and I gave it everything I had (which, admittedly, wasn't much at that point!).
(You can see me in the lower left portion of the photo above.)  I crossed the finish line and then I heard my name—my dad, stepmom and nephew were right there on the fence! I was so happy to see them.  I hugged them quickly, then got herded down the chute to get my medal and my banana.  Once outside the fenced-in area, I sat on the ground, catching my breath, until my family found me.  When I saw my dad, I gave him a huge hug.
My dad has never been to one of my races, so it was really great to see him at the end of this one.  We posed for another pic, and my dad, being the comedian he is, had to be goofy.
I gave him grief about pretending to look tired when I was the one who ran 13 miles, but he quickly pointed out to me that he'd had to park 2 miles away, and all of three of them had to run the last half-mile to make it to the finish line on time! So I cut him some slack. 😉
My dad offered to take me to breakfast, and he then went back to get the car.   I got my gear and then met up with Renee and Jessica quickly.  We all commented on how hard the run had been!  I didn't think to get a picture before we split up, unfortunately. 🙁
Once I had my bag of clean clothes, I changed (in a porta potty—hey, desperate times call for desperate measures!), and then I had someone take a picture of the slightly cleaner me with my step-mom and my nephew.
Do you like my shirt? That's not the actual race shirt. The one we were given was long-sleeved and very orange.   I can tell you that I didn't see too many of those long-sleeved shirts on race morning with that heat and humidity! At the Expo, I saw that cute short-sleeved one that used part of the Chicago Theatre sign as part of the design, and I knew I had to have it. I forgot to bring money with me to buy it at the race, but my step-mom was kind enough to buy it for me.  I think I still owe her $30 for it. 😉
We didn't have much time to do breakfast, and we kept striking out on restaurants as we drove north back to the hotel.  (I guess the race was not in the best neighborhood. 😛 )  My dad used his GPS to find one called the Chicago Firehouse.
As it turns out, the Chicago Firehouse was a bit more…upscale…than I think my dad expected.
That's the brunch menu.  Yes, we went to a restaurant that served brunch! On china! With linen tablecloths and napkins! The restaurant snob in me was downright ecstatic. 😉 I do love to eat out…the fancier and more expensive, the better.  I ordered eggs Benedict, one of my favorite brunch items, but instead of the usual ham, this version had crab!
Oh yeah, baby.  Now that's what I call a post-half-marathon meal. 😀  I don't think it was quite the restaurant my dad had in mind, but he was a great sport about it, and we had a nice meal and a lot of fun.
I will add that my dad was very cognizant of the time factor, and he asked right up front if we could be done in 30 minutes. The waitstaff was exceptional, and we were indeed done in exactly 30 minutes–pretty amazing, especially for a plated meal!
After we finished, my dad rushed us back downtown to my hotel.  I kissed everyone goodbye and then hurried up to the room, where my dear friends Jessica and Renee had actually packed up the rest of my stuff for me so we could check out on time.  We got on the road a little past noon, and made the five-hour drive back home, chatting the entire way about the race, the trip, and life in general.
All in all, it was a great weekend.  I had a fantastic time with my friends, and I enjoyed many aspects of Chicago I'd never seen before.  I ate well, without going overboard, and got in lots of walking and sight-seeing.  I had a blast hanging with Renee and Jessica, and I think we all agreed that it was a weekend well-spent, despite the difficult race.
Speaking of the race, I suppose you're wondering what my finish time was?  Well, after all that training to meet a 2:10 goal, my final time ended up being 2:15:01.  Yes, more than 5 minutes off my training goal, and still one second short of my original goal. :/
But you know what? I decided not long after the race was over that I wasn't going to let 1 second or five minutes and 1 second determine the success or failure of my racing weekend.  I did the best I possibly could given the circumstances, and in the end, it was truly a fabulous trip, one I would definitely do again.  Next time, though, I might skip the race if the weather sucks. 😉
Thank you so much for reading my very long race report, and for all the support I've received this summer as I trained for this race.  It has truly meant more than you can know.  I will try for that 2:10 finish for the next one!